Area residents tell their brush with 'The Greatest'
6/10/2016, 7:25 a.m.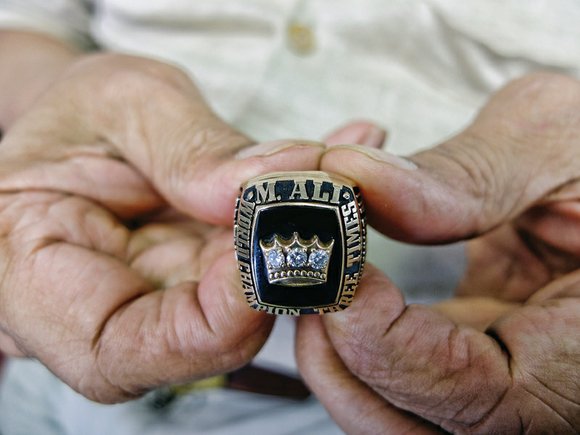 Inside, the ring is inscribed with the words "To Doug Wilder with respect."
"I don't wear it often," Gov. Wilder told the Free Press Monday, adding that he was surprised when the gift arrived.
He recalled their first meeting in March 1986, when Gov. Wilder was presiding over the Virginia Senate as lieutenant governor.
Gov. Wilder invited Mr. Ali to the Capitol to speak to the Senate.
"He said, 'Are you sure it's alright with them?' he recalled Mr. Ali asking.
Gov. Wilder, who was in charge, told Mr. Ali, "They have nothing to do with it."
"He laughed, and said, 'I like you.'
"I told him, 'I like you, too.' "
The two would joke when they saw one another, Gov. Wilder said. "He would tell me, 'I'm prettier than you are.' "
When Mr. Ali wowed the crowds at Gov. Wilder's inaugural ball in January 1990, people followed him around the Richmond Coliseum, the bold asking for autographs.
"You would have thought the inaugural was his," Gov. Wilder laughed.
Mr. Ali was among a rare group of people, like Nelson Mandela, leaders with worldwide impact, Gov. Wilder said.
"Unfortunately today, we have a diminishing of that spirit," he said. "That's why youngsters need to know who he was, what he was and how he was."
Richmond couple touched by 'The Greatest'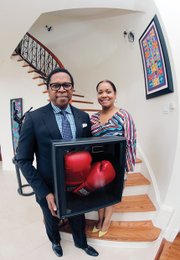 For Dr. Jill Bussey and her husband, Dr. Monroe Harris, their memories of former heavyweight champion Muhammad Ali are literally quite tangible.
When Dr. Bussey was 2, a young Cassius M. Clay Jr., then a recent Olympic gold medalist and friend of Dr. Bussey's older sister, gave her a stuffed rabbit autographed with his name at the time.
Then 13 years ago, Dr. Harris purchased a pair of boxing gloves autographed by Mr. Ali during a fundraiser at the Atlanta home of fighter Evander Holyfield.
While the toy bunny is long gone, the gloves are prominently displayed in a shadow box in the couple's Richmond home.
Dr. Bussey, 56, and Dr. Harris, 57, both grew up in the same neighborhood in Louisville's West End as Mr. Ali. But what's even more valuable than their Ali memorabilia, they said, is the legacy the renowned athlete left their hometown, the African-American community and the world.
"He was inspirational," Dr. Harris said. "Even after he was infirmed, he continued to inspire people with his public appearances. That took a lot of courage."

Dr. Bussey has hazy recollections of a young Mr. Ali, who would come to the backyard parties thrown by her sister, Connie Bussey Cosby, who is 16 years older.
What stands out the most is how big he was, she said. "He wouldn't drink anything more than water, milk or juice. It shows how disciplined he was even then."
While Mr. Ali attended Central High School, the longtime Louisville high school for African-American students, Connie and Dr. Harris' cousin, Monroe Phelps, were among the first students to integrate Male High School, which had been all white.
On one occasion when Mr. Ali came by the house, he gave her the stuffed rabbit that he'd autographed. She kept it for years.