Farewell to the champ
Muhammad Ali fought for justice, equality and title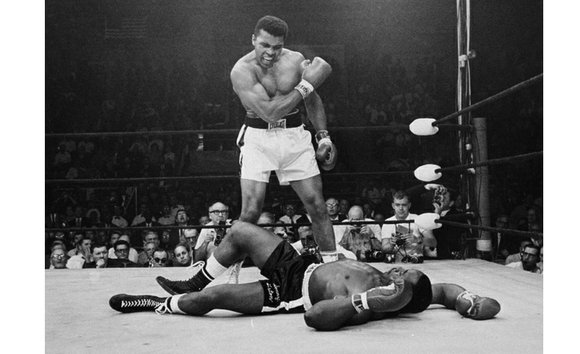 He "made people accept him as a man, as an equal, and he was not afraid to represent himself in that way,'' said Jim Brown, a football great who in 1967 was a among a group of black athletes who came together in the "Ali Summit" to support the boxer's anti-war stance.
President Obama, the nation's first black president, keeps a set of Mr. Ali's boxing gloves on display in his study at the White House.
"He stood with King and Mandela, stood up when it was hard, spoke out when others wouldn't,'' the president stated after learning of Mr. Ali's death.
"His fight outside the ring would cost him his title and his public standing. It would earn him enemies on the left and the right, make him reviled and nearly send him to jail," stated President Obama, who is not planning to attend the service. "But Ali stood his ground. And his victory helped us get used to the America we recognize today.''
The Rev. Al Sharpton, a longtime friend, said Mr. Ali "went from one of the most despised figures in the world to one of the most popular men in the world because people respected that he believed and sacrificed for what he believed in.''
Mr. Ali, a one-time Baptist, could be considered the most famous convert to Islam in American history, though he later rejected Malcolm X during a power struggle within the Nation of Islam.
His battle with the government began after Mr. Ali was twice rejected for service because the draft board rated him retarded with an IQ of 78. However, under revised standards, he was declared fit for service. When he refused induction in April 1967 and was convicted of draft evasion, the World Boxing Association stripped him of his title.
He did not get his title back after the U.S. Supreme Court ruling upheld his "conscientious objector" status and was forced to start over, his boxing career having been at a standstill for nearly four years while he appealed the conviction because state boxing officials would not grant him licenses to fight.
But he put the gloves back on and would win the title back after knocking out Mr. Foreman, lose it later and briefly regain it in 1978 before losing it to Larry Holmes in 1980 at the close of his career. He retired with a record of 56 wins, including 37 knockouts, and five losses.
After Mr. Ali's boxing career ended, he became an even more "powerful force for peace and reconciliation around the world," President Obama stated, recalling that Mr. Ali visited sick children and those with disabilities and told them that they, too, could become the greatest.
Mr. Ali's death held special meaning in Louisville, where he was the city's favorite son.
Cars lined the street outside his childhood home, a bright pink single-story house that was recently renovated and turned into a museum.
Visitors piled flowers and boxing gloves around the marker designating it a historical site. They were young and old, black and white, friends and fans.