Former VUU football center now Roanoke's new mayor
Fred Jeter | 6/17/2016, 2:46 p.m.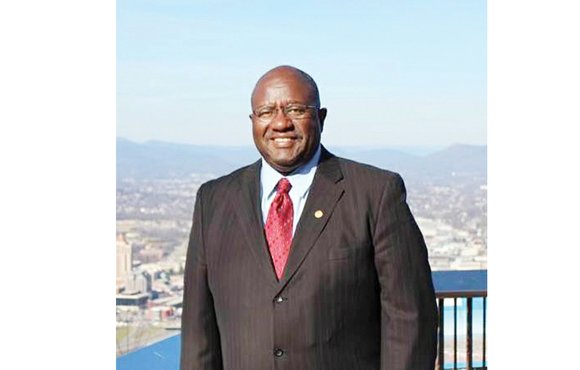 Sherman Lea has gone from the center of the football action at Virginia Union University to the center of the political arena in Roanoke, where he is now the mayor elect.
The 63-year-old Danville area native will be sworn in as mayor June 27. He will officially take office on July 1.
Area football fans may recall Lea as the starting center on Coach Willard Bailey's 1973 CIAA championship football team that posted an overall 9-1 record, including 9-0 in the CIAA.
"I remember Sherman as someone who was determined to get the job done. He was an excellent center," recalled Coach Bailey.
"I'll be there for his (installation) ceremony and I plan to take a group of his former teammates. We're very proud and wouldn't miss it."
The Panthers' 1973 CIAA title was the first since 1923. The team featured two eventual NFL starters — offensive guard Herb Scott, who went on to play with the Dallas Cowboys, and defensive back Anthony Leonard of the San Francisco 49ers.
Lea, who played at 240 pounds wearing jersey No. 58, provided much of the blocking for quarterback Timothy Keeles and running backs Larry Roberts and Lofell Williams.
"I was blessed to play for Coach Bailey, and also (assistant) Coach Chavis," Lea said in a phone interview from his home in Roanoke.
"They were tough taskmasters. No one worked harder for success than we did at Virginia Union."
Lea graduated from VUU in 1974 with a degree in sociology and urban studies. Much of his professional life has been with the Virginia Department of Corrections. In 1984, he became the first African-American to be named chief probation and parole officer.
He has been on Roanoke City Council since 2004 and was named vice mayor in 2008. He is also associate pastor at Garden of Prayer No. 7 Vision of Faith Ministries and is a past chairman of the Roanoke School Board.
Running as a Democrat for mayor, Lea received more than 80 percent of the vote during the May election. He succeeds David Bowers, and is Roanoke's second African-American mayor, following Noel C. Taylor, who served in that capacity from 1975 to 1992.
"I'm a local politician with no aspirations to go any further," Lea said. "I think it is on the local level you can make the most immediate impact. My goal is to improve the quality of life for Roanoke's citizens."
Lea's son, Sherman Lea Jr., was quarterback for Roanoke's 1997 William Fleming High School team that lost to Hampton High School with Ronald Curry in the State Group AAA, Division 5 championship. He later quarterbacked at the University of Virginia-Wise.
From 2000 to 2013, Lea sponsored the Western Virginia Education Classic promoting HBCU schools. The intent was to encourage dropouts to return to the classroom.
Coach Bailey took teams from both VUU and the former St. Paul's College to the event at Roanoke's Victory Stadium.
Lea was a football standout at Dan River High School in Pittsylvania County, near Danville. He originally enrolled at Shaw University in Raleigh, then later transferred to VUU, where he became a two-year starting center for Coach Bailey, who had succeeded Tom Harris as head coach in 1971.
The 1973 championship was the first of Coach Bailey's seven CIAA titles, six at VUU and one at Norfolk State University.
In addition to coaching Lea, Coach Bailey also instructed the center in his health and physical education class.
Coincidentally, a few years earlier, Coach Bailey's students included Dwight C. Jones, who became Richmond's mayor in January 2009.