Injury cleared way for championship in high jump
Fred Jeter | 6/17/2016, 3:43 p.m.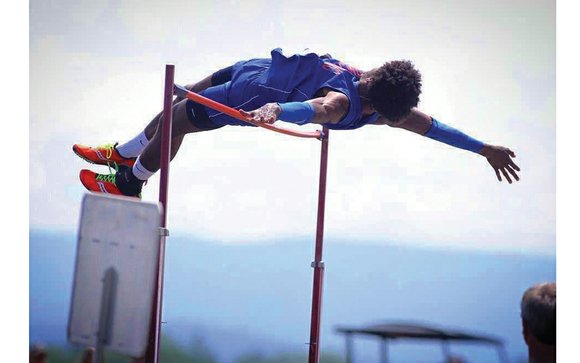 Before Kequan Henley ever took off as a high-flying state champion in the high jump, the tall and springy Armstrong High School student was in love with basketball.
Then during his sophomore year in 2014, he suffered a significant injury.
"First game of the year, I went up for a rebound and came down on my head. Knocked me out. I woke up in the hospital with a bad concussion," he recalled.
Henley wasn't cleared for sports for six months. The experience on hardwood also led him to a change of athletic direction.
From then on, Henley's focus has been on track and field, specifically the high jump.
"The injury woke Kequan up to his real sport," Armstrong High track Coach Tim Crossin said with a chuckle.
The switch from sneakers to spikes has worked out for the best.
It has led to both a state title for Henley and the equivalent of a full scholarship to Norfolk State University.
Last week in Harrisonburg, Henley cleared 6 feet 6 inches winning the State 3A title. He narrowly missed at 6-8. 
An all-round talent, the 6-foot-2, 175-pound senior also took fifth in the triple jump and helped Armstrong High to a fourth-place finish in the 4x100 relay.
Prior to the state competition, Henley won conference and regional titles during a time in which he was experimenting with a different jumping approach.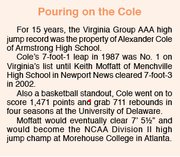 With Coach Crossin's guidance, Henley graduated from a three-step to a five-step takeoff on the pit apron.
"Most of your top jumpers use a five step," said Coach Crossin. "It's all about rhythm. The extra steps create more momentum flying to the bar."
The son of Chaquita Henley and stepfather Jamaris Jennings boasts an athletic family tree. His mother was a high jumper for George Wythe High School. His uncle, Taj Henley, starred in football at George Wythe High and Ohio University and was invited to the Miami Dolphins' NFL training camp. Another uncle, hurdler McArthur Henley, finished fourth in the State Group AAA Indoors in 2006.
Henley is a high flier in more ways than one.
He ranked ninth in Armstrong High's senior class of 224. He earned a 3.4 GPA in mostly honors and Advanced Placement courses. His scholarship to NSU is a combined athletic-academic scholarship.
The energetic teenager has been spotted all over town.
He works part time as a host at Applebee's on Laburnum Avenue and volunteered for the UCI Road World Championship bicycle races and at the Freedom Classic. 
Norfolk State is excited about Henley's versatility. Spartans' track Coach Kenneth Giles views Henley as a possible MEAC champion in both the high jump and also the 10-event decathlon.
One activity he won't be participating in at NSU is basketball — not even on a pick-up level. His only jumping, he insists, will be into foam rubber cushions. He has written off hardwood.
"After that fall I took," he said, "I'm afraid of what might happen if I try it again."