Meet the Morrisseys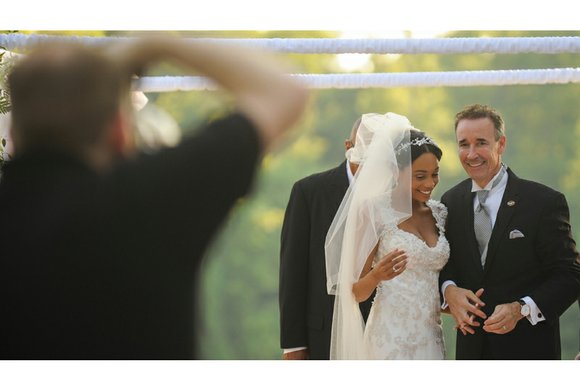 Facing a long term in prison if convicted, Mr. Morrissey accepted an Alford plea in which he denied guilt but acknowledged there was enough evidence to convict him of contributing to the delinquency of a minor. The misdemeanor, for which he received a sixth-month jail sentence in December 2014, saved his law license.
The groom resigned his legislative seat, then won a special election to regain the seat to the dismay of General Assembly leaders.
Able to continue to serve in the House of Delegates while on work release, he became the first member of the legislature to be on the floor of the House and sleeping in the jail for three months. Like others in jail, he only had to serve half the sentence based on good behavior.
After jail, Mr. Morrissey and Miss Warren welcomed their first child, son Chase, in March 2015 when she was 19. She delivered their daughter, Bella, in March 2016, while juggling motherhood, the campaign, college classes and a move to the family's new home on Seminary Avenue in Ginter Park.
The ceremony went off as planned by retired schoolteacher Pam Parker of Simply Perfect Weddings and More and her team.
It began a fashionable half-hour late to give late-arriving guests time to park in nearby fields and ride a trolley to the ceremony. Meanwhile, the bride waited patiently in a limousine.

The five Morrissey children were front and center at the ceremony. His two oldest daughters, Angela Schaefer and Lindsey Mackay, both in their 20s, were bridesmaids. His 3 1/2-year-old daughter, Kennedy, was the flower girl. Mr. Morrissey's 7-year-old nephew, John, was the ring bearer.
Fifteen-month-old Chase accompanied his father, while 2 ½-month-old Bella was carried by a friend of the bride.
The wedding party also included the groomsmen, the Rev. Joe Ellison and businessmen Abe Massad and Warren Rogers, and maid of honor Kaelah McClaine and bridesmaid Tiffany Crespo.
Saxophonist Rick Elliott, who serenaded guests before and during the ceremony, joined DJ Kevin "K.J." Johnson and his wife, Cherrese Johnson, in providing music at the post-nuptials dinner under a tent.
For the couple, the scandals are now fading into family lore. And the bevy of guests who attended indicates many wish them well.