Henrico cop indicted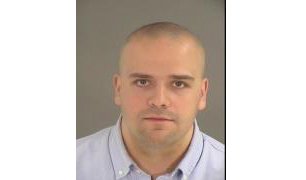 "I can't wait to go to court to see those tapes," he said.
According to Mr. McNeil, his cousin said she had returned to the car after paying for gas and stopping in the restroom.
"She was on her cell phone with her daughter," Octavia McNeil, he recounted, when someone rapped hard on her window and motioned to her to roll it down.
"It was dark, and she couldn't tell who it was," Mr. McNeil said, although the officer was in uniform.

Then the glass shattered as Officer Greenway began firing, Mr. McNeil said he was told.
Ms. McNeil was hit in the right shoulder, he said. After a second shot hit her, she asked the officer to stop shooting and then flung her left arm across her face as he fired again, Mr. McNeil said. That bullet hit her left arm.
As Mr. Davis drove off, she was shot again in the back of the head.
Mr. McNeil said a security guard in the store who knew first aid "saved her life."

"He ran to the car after it crashed and put pressure on the wound until" emergency help arrived, Mr. McNeil said.
A key issue expected at the trial is whether Officer Greenway was struck by the car as he claimed. No evidence has been publicly released.
Mr. McNeil said Mr. Davis and his cousin told him the car never touched the officer. That's also the view of Attorney A. Donald McEachin, a state senator who represents Ms. McNeil and is building a civil case against the officer.
"It is still early in our investigation, but I do not believe the officer was struck by the car," Mr. McEachin said. However, he said he would know more once additional evidence becomes available.
Ms. McNeil was treated at VCU Medical Center and was released because she does not have health insurance, her cousin said. Her recovery has been hard and slow, he said.
"She still has bullet fragments in her head," Mr. McNeil said. "She has seizures and has a hard time walking and talking." He described her as too disabled to work.
He said Mr. Davis also has been so traumatized that he has not been able to work regularly.
"They still have bills to pay, but they have no money. The family is helping as best we can, but it's just a sad situation," Mr. McNeil said.
"The most hurtful part of this situation is who did the shooting. Police are supposed to protect and serve the community, not try and kill people," he said.
"How can we trust them after what happened?"