Obama picks D.C. jurist
President nominates Judge Merrick Garland for U.S. Supreme Court amid GOP pushback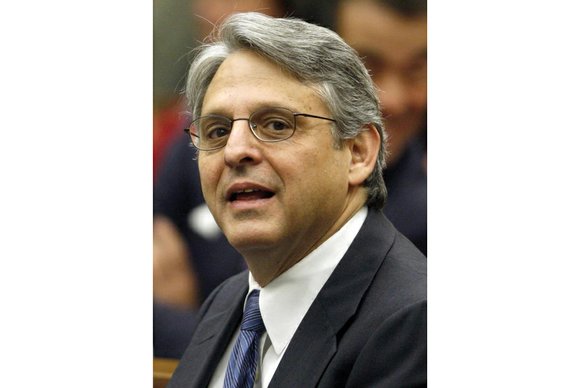 WASHINGTON
President Obama nominated veteran appellate court Judge Merrick Garland to the U.S. Supreme Court on Wednesday, setting up a potentially ferocious political showdown with Senate Republicans who have vowed to block any Obama nominee.
Considered a moderate, Judge Garland, 63, is chief judge of the U.S. Court of Appeals for the District of Columbia. He was picked to replace long-serving conservative Justice Antonin Scalia, who died on Feb. 13.
"I've selected a nominee who is widely recognized not only as one of America's sharpest legal minds but someone who brings to his work a spirit of decency, modesty, integrity, even-handedness and excellence," President Obama said in the White House Rose Garden.
"These qualities and his long commitment to public service have earned him the respect and admiration of leaders from both sides of the aisle (Democrats and Republicans). He will ultimately bring that same character to bear on the Supreme Court, an institution in which he is uniquely prepared to serve immediately," President Obama added.
Senate confirmation is required for any nominee to join the bench and Senate Republicans have vowed not to hold confirmation hearings or a vote on any nominee picked by the Democratic president for the lifetime position on the court.
Republicans are demanding that President Obama leave the seat vacant and let the next president, to be elected in November and sworn in next January, make the selection.
Judge Garland is a longtime appellate judge and former prosecutor who President Obama also considered when he filled two previous Supreme Court vacancies.
In a foreshadowing of the pressure campaign the White House and its allies plan to wage in the coming weeks, the White House noted that seven current Republican U.S. senators voted to confirm Judge Garland to the D.C. circuit court in 1997.
Judge Garland, who has earned praise from lawmakers of both parties in the past, was named to his current job by Democratic President Clinton in 1997, winning Senate confirmation in a 76-23 vote. Prior to that, he worked in the Justice Department during the Clinton administration.
Judge Garland was born and raised in President Obama's hometown of Chicago.
He won scholarships to attend Harvard University and graduated summa cum laude. He then earned his law degree from Harvard Law School.
Prior to being selected to his current post, he served in numerous other legal posts. Among those, he was deputy assistant attorney general for the Criminal Division at the U.S. Department of Justice, then as principal associate deputy attorney general.
He was praised for his work on the government's response to the 1995 bombing in Oklahoma City by domestic terrorist Timothy McVeigh. He also supervised the department's response to the Unabomber and the Montana Freemen.
In his 19 years on the D.C. Circuit, he has earned a reputation as a consensus builder and a fairminded jurist.
Virginia's two U.S. senators lavished high praise on his selection.
"Merrick Garland is a well-respected jurist with impeccable qualifications and unrivaled experience," Sen. Tim Kaine said in a statement.