Backlash supreme
Demonstrations around the country continue as President Trump names U.S. Supreme Court nominee, bans Muslims from U.S.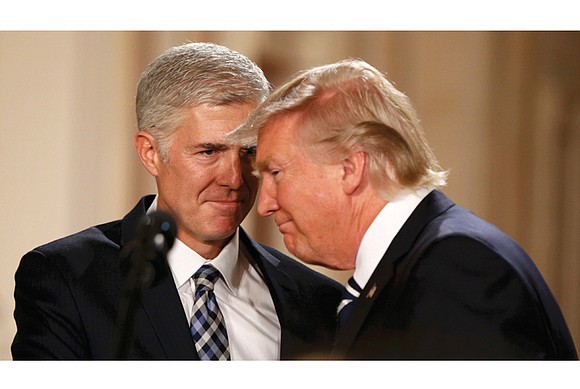 WASHINGTON
Just two weeks have passed since his inauguration, and despite a torrent of action, disruption, protests and lawsuits, President Trump has been on a tear to keep campaign promises, uplifting his legions of supporters and dismaying his legions of opponents.
Despite his condemnation of President Obama's use of executive orders, the new president has rolled out a truckload of his own without any review by anyone outside his inner circle.
Already he has signed orders that halted immigration of Muslims from seven nations, including allies like Iraq, as well as green card holders with valid U.S. passports, and began to dismantle the Affordable Health Care Act, or Obamacare, that provides health insurance coverage for 20 million Americans.
He also has ordered the start of construction of his vaunted wall along the 1,989-mile U.S. border with Mexico, imposed a gag on discussion of abortions in foreign lands that receive federal dollars for family planning, and the restart of construction of oil and gas pipelines halted by environmental concerns.
Despite an unorthodox style, a penchant for making up facts, a lack of consultation with experts and lawyers, an unstinting desire to bash the press and critics, and nomination of a billionaire-heavy cabinet eager like himself to profit from government service, President Trump keeps rolling.
Nothing more exemplifies his push to fulfill his promises than his nomination Tuesday of a U.S. Supreme Court justice to fill the vacancy left by the death of archconservative Antonin Scalia a year ago.
His choice: 10th U.S. Circuit Court of Appeals Judge Neil Gorsuch, 49, of Denver, the youngest high court nominee in 25 years and another archconservative in the Scalia mold who has rejected controls on corporate spending in elections, promoted religion as a check on government policy and advocated for reducing the authority of federal agencies.
"I made a promise to the American people: If I were elected president, I would find the very best judge in the country for the Supreme Court," the president said at the White House Tuesday night in introducing his choice in a national broadcast.
"I promised to select someone who respects our laws and is representative of our Constitution and who loves our Constitution and someone who will interpret them as written," he said.
"Judge Gorsuch has outstanding legal skills, a brilliant mind, tremendous discipline and has earned bipartisan support," President Trump said in pushing a judge who has disdained the underlying reasoning that supports the U.S. Supreme Court's Roe v. Wade decision in 1973 that legalized abortions.
While Judge Gorsuch won unanimous Senate confirmation in 2006 to go on the appeals court, he could face a bruising fight from Senate Democrats who are eager for payback for the Republican decision to ignore former President Obama's nomination last year of Judge Merrick Garland for the empty Supreme Court seat.
President Trump, aware of the prospect, already is calling on Senate Republicans to approve his nominee with a simple majority, rather than requiring 60 votes, a move dubbed "the nuclear option." Currently, there are 52 Republicans in the 100-member Senate.