VUU's 'Windy City Wonder' breaks records, dazzles fans at regional finale
Fred Jeter | 3/17/2016, 11:29 p.m.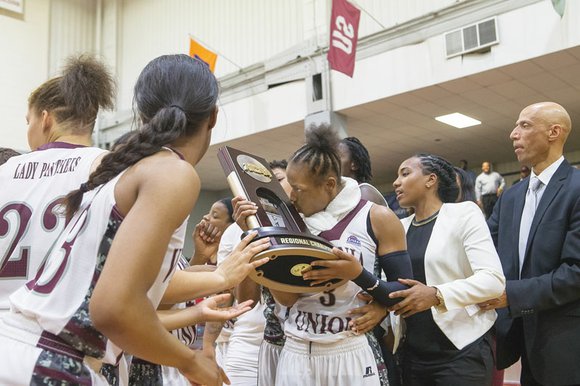 Kiana Johnson is so fast, so agile, so dynamic. She navigates a basketball floor like a sleek sports car, reducing foes to clunker status.
Virginia Union University's super senior was full throttle Monday night at Barco-Stevens Hall, the visiting West Liberty University team trailing in her fumes in the NCAA Division II Atlantic Region finale.
The 5-foot-6, 130-pound human whirlwind from the Windy City (Chicago) broke both the NCAA tournament record and her own school record for the most points scored in a single game in leading VUU to a 91-77 victory against the West Virginia school.
The Lady Panthers now are headed to South Dakota, where they will play in the Elite Eight on Tuesday, March 22, in Sioux Falls.
Johnson's 49 points — to go with eight assists, six steals and four rebounds — eclipsed the VUU record of 45 points scored in a single game that she set earlier this season.
More impressively from a national perspective, it topped the NCAA Tournament record of 46 points set by Fort Valley State University's Sherika Tarpkins in 2005.
"I just came out aggressive, determined to get it done," said Johnson, a transfer student from Michigan State University.
"This is for everyone at Virginia Union, and for everyone back home in Chicago, Uptown. I love ya'll." 
After each score, she points to the heavens with her right index finger.
"Giving God his glory," she said unashamedly.
Johnson's list of honors continues to sprout.
On Monday, she added the NCAA Atlantic Region Most Valuable Player honor to previous awards of CIAA Player of the Year and CIAA Tournament Most Valuable Player.
About all that's left is National Player of the Year — surely an achievable goal. During the regular season, Johnson led the nation in scoring while finishing second in assists.
To reach Monday's regional final, Johnson had 27 points in the Lady Panthers' 91-72 quarterfinal victory last Friday over Indiana University of Pennsylvania. Johnson then tacked on 31 points as VUU beat Wheeling Jesuit University 75-66 in last Saturday's semifinals.
On Monday night, Johnson made her Barco-Stevens Hall farewell in the regional finale one to remember.
"It was going to be my last home game. I wanted to give them a show," she said.
An added incentive came from having one of her three brothers in attendance. He had driven to Richmond from Norfolk, where he is stationed in the Navy.
Tickets for the NCAA regional final were $15 and no one was asking for a refund. Johnson's point total was exceeded only by the number of smiles she put on her admiring fans' faces.
By intermission, the psychology major already had 30 points, four assists and four steals as VUU led 49-34, and the rout was on. With 3 minutes left in the third period, the Lady Panthers led 68-42.
Consider: This glitzy, dominant performance came at the expense of a strong opponent that finished with a 29-5 record.
It's safe to say the visiting West Virginians never had seen anything quite like VUU's "Windy City Wonder."
Wearing jersey No. 3, which is sure to be retired some day, Johnson wound up with a final tally that included 18 of 33 from the floor overall, 4 of 6 behind the arc, and 9 of 9 at the foul line.
And if there was a category for "pizzazz," she would sport big totals in that, too.
Overshadowed by Johnson's creative, entertaining style were 6-foot-2 post players Lady Walker (11 points, 13 rebounds) and Taylor White (11 points, 14 rebounds).
So now for Coach AnnMarie Gilbert's squad, it's goodbye Barco-Stevens Hall, hello South Dakota.
"I hear it's beautiful country," said Johnson.
"When we get there, we want to do some sightseeing," she said. "And we want to win."