Son of VUU legend finalist for Jerry West Award
3/31/2016, 8:44 p.m.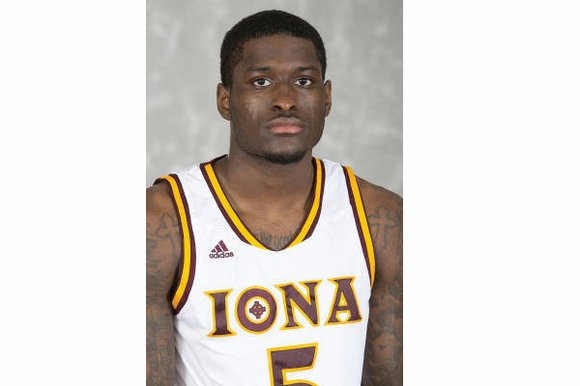 A.J. English III, son of former Virginia Union University basketball great A.J. English Jr., is a finalist for the Jerry West Award honoring the top male shooting guard in NCAA Division I basketball.
The annual award, presented by the Naismith Memorial Basketball Hall of Fame, will be announced April 8.
Other finalists are the University of Virginia's Malcolm Brogdon, Duke University's Grayson Allen, Villanova University's Josh Hart and Buddy Hield of the University of Oklahoma.
Ohio State University's D'Angelo Russell was last year's West Award winner. He now plays with the Los Angeles Lakers.
English is a senior at Iona College in New Rochelle, N.Y. He averaged 23 points, 6.2 assists and five rebounds this season, helping the Gaels to the Metro Atlantic Athletic Conference tournament title.
Finishing strong, English scored 28 points with seven rebounds, six assists and three steals in Iona's 94-81 loss to Iowa State University in the NCAA Tournament's first round. That enabled him to close his college career with 2,004 points.
English Jr., who played at VUU from 1986 to 1990, finished with 2,396 points under former VUU Coach Dave Robbins.
The elder English amassed 1,001 points in 1990 alone at VUU. He led Division II in scoring (33.4 points per game) and was awarded NCAA Player of the Year honors.
Only two father-son acts in college history have passed 2,000 points in NCAA Division I. (The Englishes fall into a different category because VUU is in Division II.)
Dell Curry scored 2,389 points at Virginia Tech from 1982 to 1986, while his son Stephen Curry had 2,635 points for Davidson College from 2006 to 2009.
Steve Burtt Sr. scored 2,524 points from 1980 to 1984 at Iona College, while Steve Burtt Jr. had 2,034 points from 2002 to 2006.
English III is third on Iona's all-time leading scorer list behind the Burtts.