Chocolate Chip: A radio treat for 40 years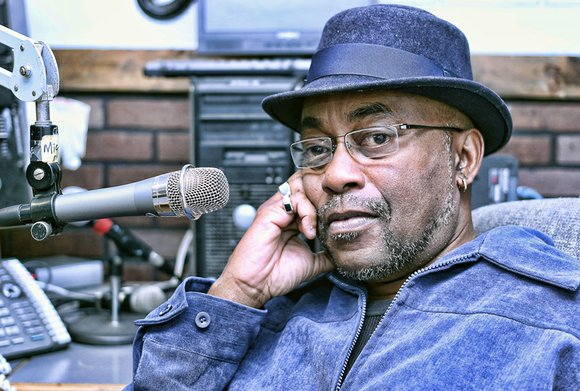 Chocolate Chip is still spinning records as a Richmond radio disc jockey.
Every Thursday from 1 to 4 p.m., he takes listeners on an R&B stroll down memory lane with his oldies show on WCLM-AM 1450.
Born James Ulysses Johnston — though it's a name few people know — Chocolate Chip is marking the 40th anniversary of his start in radio this week.
At 62, he is among longest running DJs still working on Richmond radio. Most people who were around in the 1970s when he started playing music on the airwaves are retired or gone.

"My biggest thrill is being recognized," said Mr. Johnston. "People treat me like radio royalty after they hear me on a commercial."

He grew up with dreams of being a radio disc jockey like Kirby Carmichael and other favorites he listened to on his favorite station.
Fresh from serving in the Air Force, he got his chance after going to work at the Churchill Record Shop, a popular but now defunct store owned by the late Joe Turnage.
"I loved that job delivering 45s and albums and installing needles." Mr. Johnston said.
The store is where he got his iconic nickname. He had grown up with the family nickname of "Chip" or "Chipper." One day, he said, "one of the guys in the store called me 'Chocolate Chip' after a Isaac Hayes song, and it caught on. From then on, I was Chocolate Chip."
He credits Mr. Turnage with enabling him to get his shot at an on-air career. He said he pleaded with Mr. Turnage to allow him to do a commercial. Mr. Turnage finally put him on one in 1975.
"That was the springboard," he said. "Ben Miles heard the commercial and wanted to know who was the voice."
Mr. Miles was then a DJ and rising manager at the area's top black radio station, WANT-AM. And within a year, on Sunday, May 16, 1976, Chocolate Chip made his debut on the station. He would go from one day a week to being a regular on the evening drive.
Since he left WANT in 1982, he has worked at various stations in Richmond and Norfolk, including WENZ, Magic 99 and WKIE.
He acknowledges that he damaged his career by getting involved with drugs.
"It took me years to deal with my demons," he said, "but I've been clean since 2001."
Since 2008, he has been associated with WCLM.
He remembers some of the great moments of his career — getting a kiss from Phyllis Hyman when he emceed her 1980 show at the Mosque, now the Altria Theater, and meeting Michael Jackson in 1978 when the entertainer hit a low point and had yet to bounce back with the 1979 hit "Off The Wall."
His role as a disc jockey and show emcee allowed him to meet some of the R&B greats, most notably the trio of Ray, Goodman & Brown, who became personal friends. He is still friends with Billy Brown, the only member of the original trio still alive.
Mr. Johnston also remembers getting in trouble with Marvin Gaye, who was booked at the Richmond Coliseum for a 1977 show. Mr. Gaye was running late and Mr. Johnston said he was told to go onstage and tell the increasingly antsy crowd of 11,000 that Mr. Gaye was in the building and would soon be out.

"I couldn't do it. I went out and told the truth — that I didn't know where Marvin was and that everyone was just hoping he would show."
Mr. Gaye actually had arrived by then and went on a few minutes later, but Mr. Johnston said he didn't know that.
After the show, he accompanied then-Richmond Mayor Henry L. Marsh III and state NAACP Executive Director Jack Gravely to see Mr. Gaye in his dressing room. The star looked at him and said, " 'Why did you do me like that, youngblood?' I was dumbfounded that he knew what had happened."
He said Mr. Miles was upset with him at first for not announcing that Mr. Gaye was in the building, but then people started calling the station to say how much they appreciated his honesty.
"I guess you got me again," he recalls Mr. Miles telling him.
Mr. Johnston said he's still called on to emcee oldies shows like a recent one that featured Clarence Carter.
Still, he said his most important work these days is keeping up with his eight children — seven girls and a boy — and his eight grandchildren.
"That's what I care about most," he said. "I still love the radio, but I am more focused on family."