Personality: Kenneth A. 'Ken' Free
Spotlight on board chair of 50-year-old Metropolitan Junior Baseball League
11/4/2016, 6:36 p.m.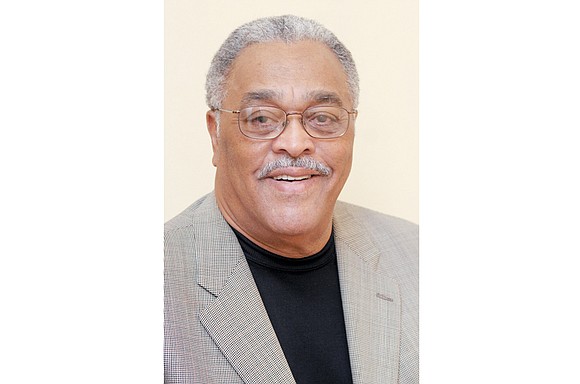 Ken Free believes baseball taught him how to survive.
The current chairman of the board of the Metropolitan Junior Baseball League got his start at 15, when he played baseball with the Raleigh Tigers in the Negro Leagues. It was 1951, and he was playing with 20- and 30-year-olds for $2 a day.
Baseball taught him life lessons, he said.
"Even if you hit a home run, even if you hit it out of the park, you still have to touch 1st, 2nd and 3rd" bases, he says.Mr. Free later played with the Raleigh Cats in 1961, a farm team for the New York Mets.
He and the two other African-American players on the team "were leading the field, but we couldn't stay in hotels with the white players. You had to adjust."
While the Negro Leagues and a few major league teams enabled African-Americans to play organized baseball, there was no such opportunity for recreation and old-fashioned competition for African-American children in Richmond. That changed in 1966 when the Metropolitan Junior Baseball League gave youngsters the chance to participate in America's pastime.
Now celebrating its 50th anniversary this weekend, the MJBL has expanded to 17 states across the United States and the Bahamas.
In honor of the landmark anniversary, the nonprofit organization is hosting several activities on Saturday, Nov. 5, including a game at The Diamond featuring 30 of the MJBL's top high school juniors and seniors, and a reception and dinner with Jerry Manuel, former manager of the Chicago White Sox and the New York Mets, and former New York Mets center fielder and coach Mookie Wilson.
Richmond physician Dr. William M.T. Forrester and Caesar Barron started the MJBL to encourage baseball among children who wanted to play but were excluded from the area's all-white Little League teams.
Now, Mr. Free, a former commissioner of the Mid-Eastern Athletic Conference, hopes to keep access to baseball alive for African-American youths. The Greensboro, N.C., native wants young people to include baseball in their basket of dreams.
"Many of our youths are steered away from baseball due to finances or poor accessibility to fields," he says. There's easier access to basketball courts.
The MJBL's first teams played in North Side at Battery Park, in the West End at Maymont, in Church Hill at Luck's Field and in Glen Allen at Virginia Randolph School.
William Forrester Jr., son of the MJBL's founder, is executive director of the organization, which still operates its headquarters in Richmond. The MJBL is considered the oldest black-owned and operated inner city youth baseball league in the nation. While it holds an all-star tournament each year among its special events, its mission has since been updated to include "educational, athletic and cultural enrichment programs" in an effort to help disadvantaged youths realize their self-worth.
Meet baseball lover, advocate and this week's Personality, Kenneth A."Ken" Free:
Date and place of birth: June 8 in Greensboro, N.C.
Current residence: Greensboro, N.C.
Education: Bachelor's of science, North Carolina A & T State University.