Personality: Free F. Egunfemi
Spotlight on founder of Untold RVA
11/24/2016, 10:31 a.m.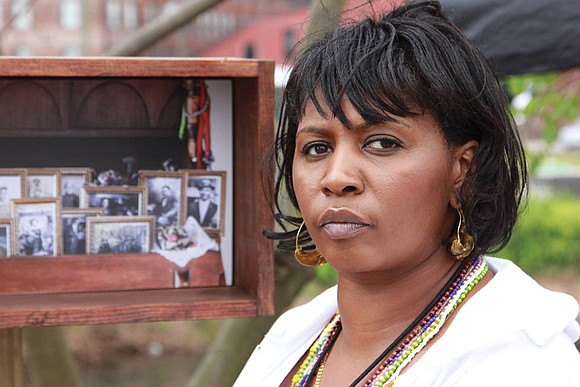 Her passion for history has enabled her to find kindred spirits and create partnerships with others who are engaged in preserving, protecting or telling the stories of Richmond at area universities and in private organizations.
Her mission, she says, is to use Untold RVA and her knowledge to bring out the "missing pieces" within the city's history that the Confederate monuments don't tell.
Here is a close-up of this week's Personality, Free Folasade Egunfemi:
Meaning of your name: Free Folasade Egunfemi. My first name means "self-determined." My middle name means "wealth and honor is my crown" and my last name means "my ancestors love me," all in the language of the Yoruba tribe in Nigeria.
Date and place of birth: Feb. 20, in Englewood, N.J.
Current residence: Swansboro in South Richmond.
Education: I'm self-educated. I read tons of obscure history books and focus on the bibliography sections in the back. Then I read all those books, too. I have taken courses through Virginia Commonwealth University and completed the Valentine Richmond History Center Tour Guide program at the University of Richmond. I also have taken classes that interested me at Virginia State University and J. Sargeant Reynolds Community College.
Family: Three daughters Pascale, Ari and Ngozi; my father, Bernard Scott; and my brother, Wise.
Untold RVA is: The people's choice for the ethical presentation of the missing pieces within Richmond's historical narrative.
I was motivated to create it because: The stories of Richmond's self-determined ancestors weren't being told in the way I thought they needed to be brought forth.
When founded: January 2014 at the Feast RVA Community Crowdfunded Startup Competition, which I won.
Its mission: Untold RVA is a home-grown, black-woman owned, urban exploration tour company that seeks to inspire people who come to the city in search of an alternative view of bygone eras.
How I became interested in history: In high school, I took an Advanced Placement European history class. I was smitten with history but the course's focus frustrated me. I began studying black history and culture on my own. At 16, I ran unopposed for class historian, but lost when my honors English teacher unfairly wrote in someone else's name on the ballot. I felt betrayed. I swore that I'd be a historian one day, no matter what. And that's what I have become. I've made my own lane in this field. Now my life's work is devoted to my history projects, which are an extension of my love for the ancestors combined with my fascination for my adopted hometown's past.
Why it is important to learn history: We stand on the shoulders of our honored ancestors. Learning about their lives is a source of strength and inspiration. When we call out their names, we become empowered by their legacy. It is our responsibility to carry the narrative of their struggles and accomplishments, just as someone one day will carry these things for us.
Headquarters: Anywhere I feel like setting up to work that day. I have perch spots all over the city where folks let me set up my laptop and get on their Wi-Fi. Next year, I'm going to be the artist-in-residence at the new 6 Points Innovation Center in Highland Park. I am working with a partner to develop a dedicated space to produce history-inspired content.