Ben Wallace removes jersey, photo from VUU over dispute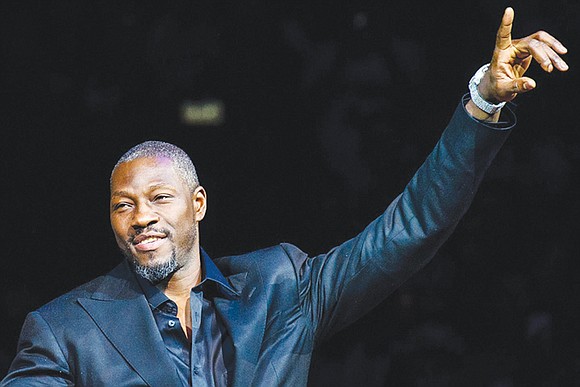 Pro basketball great Ben Wallace has removed his jersey from its place of honor at Barco-Stevens Hall at Virginia Union University where he was a star, the Free Press has learned.
He also removed a framed photograph of himself that was located near the Lombardy Street entrance to the school's gym, another sign that he is engaged in a major split with his alma mater.

Mr. Wallace could not be reached for comment about what triggered his decision to remove his No. 32 jersey and the photograph. Nor could VUU Athletic Director Joe Taylor be reached for comment.
Jim Junot, VUU sports information director, confirmed Tuesday that the former NBA star's jersey is no longer part of the display of jerseys in the Barco-Stevens rafters of VUU hoops greats including Charles Oakley and A.J. English, who also had stellar NBA careers.
Mr. Junot said he had no idea why the Wallace jersey, which had hung beside that of Mr. English, was gone.


According to a person with knowledge of the events, Mr. Wallace went to the building during homecoming weekend and paid a custodian to bring down the jersey. The individual said the issue involves a personal dispute between Mr. Wallace and a member of the athletic department staff.
With his jersey and framed photo gone, Mr. Wallace's only remaining presence at Barco-Stevens is another, smaller framed photo in a locked display case.

Mr. Wallace played basketball at VUU from 1994 to 1996. As a senior, he helped lead the Panthers to the NCAA Division II Final Four and a 28-3 record.
He went on to play for the NBA Washington Bullets and other teams, most notably for the Detroit Pistons.
He retired in 2012, having won a championship ring in 2004 and establishing himself as one of the nation's top defensive players. A four-time NBA defensive player of the year, he remains the only NBA player ever to record 1,000 rebounds, 100 blocks and 100 steals in four consecutive seasons, from 2001 through 2004.
The Pistons retired his jersey earlier this year to honor his career in Detroit. He previously was inducted into the CIAA Hall of Fame, the conference in which VUU plays.
Since his retirement, Mr. Wallace has become best known in Richmond for his West End gym, where he sponsors summer league play featuring up-and-coming college students and current and former NBA players.