'Tiger Tom' hits 100
Local radio, news icon was voice of community for more than 50 years
10/28/2016, 6:58 p.m.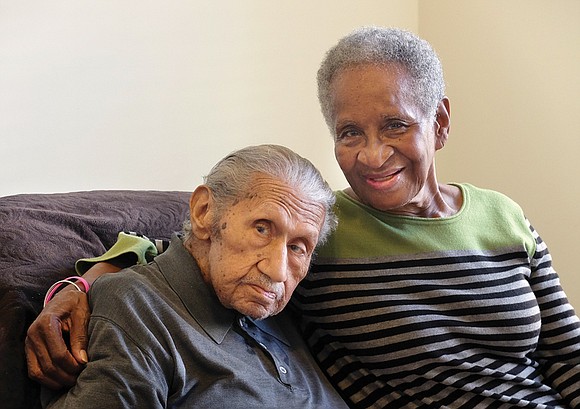 By Holly Rodriguez
When John "Tiger Tom" Mitchell was born in 1916, African American-owned banks, insurance companies, newspapers, barber and beauty shops and retail businesses had set a foundation of wealth for Jackson Ward.
The vibrancy of the community, and growing up around his great uncle, crusading Richmond newspaper editor John Mitchell Jr., fed Mr. Mitchell's desire to work in the newspaper and radio businesses.
For more than 30 years, "Tiger Tom" was the popular, on-air voice at WANT-990 AM radio, spinning records, providing the latest news and sports and advertising the biggest entertainers coming to town.
For decades, he also was the voice of Friday night football games, announcing the teams and their plays at City Stadium, including the annual Armstrong-Walker Classic on Thanksgiving weekend.
While the revered radio personality and broadcasting icon retired in 1982, his clear voice and upbeat style are still remembered.
"Tiger Tom" turns 100 on Thursday, Oct. 27. He's celebrating with family and friends this weekend at his South Side home.
"Sometimes he says he can't believe he's still here at 100," his son, John, told the Free Press in an interview this week. "People stop me on the street and ask me how he's doing. He was an institution in this city."
Even though he is less mobile now, Mr. Mitchell reads the Free Press and daily newspapers every day. A magnifying glass sits on his bed, along with the latest edition he's reading.
At times, his voice is as strong as it was when he was on the radio. His family encourages him to talk about the past. His recollections are packed with history.
He talks about his great uncle, the noted editor of The Richmond Planet, who organized a boycott of the city's segregated trolley system in 1904 and ran for governor on the Lily Black ticket in 1921. He also was a founder of Mechanics Savings Bank.
Working as young man with the newspaperman, "Tiger Tom" met many of the city's influential leaders, including businesswoman and bank founder Maggie L. Walker, who gave him his first job as a linotype printer at her newspaper, the St. Luke Herald.
In the interview, Mr. Mitchell emphasized that his great uncle and Mrs. Walker helped one another.
"They were not competitors," he said. "They supported one another. That's what we all did back then."
At 14, he suffered an injury on the newspaper job — the tip of his index finger was cut off. Still, he went on to write articles for The Richmond Planet and, later, for The Richmond Afro, JET magazine and the Richmond Times-Dispatch. He also worked for The Virginia Journal, the magazine for the Virginia Teachers' Association, the African-American teachers' organization during segregation.
He graduated from Armstrong High School as the valedictorian of his class in 1935. He enrolled at Virginia Union University and played freshman football, but left after a year to join the military. He was turned down because of a ruptured hernia for which he had undergone surgery. He ended up working in a Civilian Conservation Corps camp in Mecklenburg County.