Broadcast legend 'Tiger Tom' Mitchell dies
By Jeremy M. Lazarus
"Tiger Tom" Mitchell built his life on the spoken and written word.
For more than 30 years, the celebrated broadcaster entertained untold thousands of listeners with his radio show on long-gone WANT AM 990.
For years, he also regaled readers of the now defunct Richmond Afro-American with his stories on people, politicians, crimes and trials.
And for 20 years, he was the play-by-play announcer for Friday night high school football games at Virginia Union University's Hovey Field and City Stadium, most notably for the once huge Armstrong-Walker Classic high school football clashes, the Super Bowl of local sports.
A household name to many and an inductee into state and national broadcasting halls of fame, his vigorous voice and often trenchant pen are now stilled.
The Richmond native died Monday, July 10, 2017, at the South Side residence of his daughter, Ida Mitchell, a department store executive.
He was 100.
"His 100-year-old body just gave out," said his son, John H. Mitchell, a musician, graphic designer and youth counselor for the Bainbridge Boys and Girls Club.
He said the family is planning to hold a memorial tribute to celebrate his father's life, but arrangements were incomplete at Free Press deadline.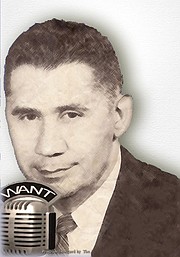 Born John Thomas Mitchell on Oct. 27, 1916, in what is now the Shockoe Bottom area of Richmond, he said he earned the nickname "Tiger Tom" because of his boisterous broadcast style.
Mr. Mitchell was best known for his broadcast role at WANT, where he spun gospel records and served up news, weather and remembrances of those who had died.
At the station, he astonished people with his ability to absorb information and then crisply deliver a 5 minute news and weather update to listeners without a script.
His memorable work led to his induction into the Virginia Communications Hall of Fame in 1996 and the national Broadcasters Hall of Fame In Akron, Ohio, in 2009.
Most recently, he received the Frank Soden Lifetime Achievement Award from the Richmond Broadcasters Hall of Fame.

Mr. Mitchell got into journalism following in the footsteps of his great-uncle, crusading journalist and banker John Mitchell Jr., editor of The Richmond Planet, and his father, Roscoe C. Mitchell, who reported for The Planet and for the "Colored Section" of the Richmond Times-Dispatch.
By age 11, he was setting type on the printing press for The Richmond Planet. By age 14, he was doing the same for The St. Luke Herald, the newspaper that Richmond businesswoman Maggie L. Walker created for the Independent Order of St. Luke that she ran.
Despite losing the tip of his index finger working the printing press, Mr. Mitchell remained true to his calling. He would go on to report for The Norfolk Journal & Guide and the Richmond Afro and become the Richmond correspondent or "stringer" for JET magazine before becoming a radio legend.
The valedictorian of his 1935 Armstrong High School graduating class, Mr. Mitchell initially enrolled at Virginia Union University, where he planned to play football, but he left after a year to join the military.