Stuck at start
New RPS bus plan adds to first day issues
9/9/2016, 5:27 p.m.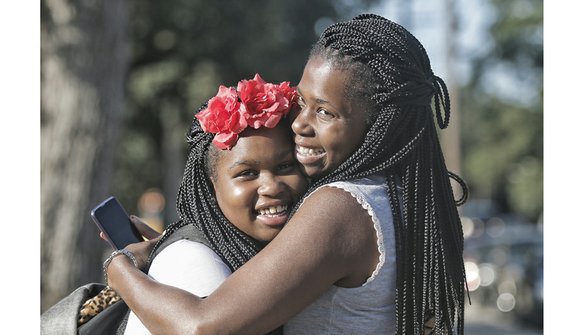 By Lauren Northington
At 7:35 a.m. Tuesday, sixth-grader Ayanna Street and her mother, Yakysha Langhorne, stood excitedly outside Westover Hills Elementary School waiting for Ayanna's scheduled 7:53 a.m. school bus to take her to Binford Middle School.
Like Ayanna, more than 23,000 students started their first day of the 2016-2017 academic year in Richmond Public Schools in a fit of nerves, new outfits and new opportunities.
Mrs. Langhorne had taken the day off from her job in Short Pump to see her daughter off to her first day of middle school and eagerly snapped photos of a beaming Ayanna standing at the bus stop.
As one of thousands of students affected by the Richmond School Board-approved bus transportation plan for the new school year, Ayanna seemed unphased by the loss of her neighborhood bus stop. Despite having to get to a "hub" bus stop at a neighborhood elementary school to catch her bus to Binford, Ayanna seemed more anxious about attending a new school than worrying about where to catch the bus.
But the family's joy faded to anxiousness and then upset as, an hour after the scheduled pick up time, the bus had not yet arrived.
After calling Binford Middle School, Mrs. Langhorne was advised to find alternate transportation for Ayanna for the morning because her bus was not coming.
"I can't lose my job waiting at a bus stop, and I cannot take off work just to bring her all the way up to Westover Hills everyday," Mrs. Langhorne said.
The problems were a mixture of first day kinks and the new transportation plan, which shifts the cost of transportation from the school district to parents.
RPS cut the pupil transportation budget by 3.2 percent even as two-thirds of the city's students are transported daily on school buses.
On Tuesday, many parents waiting with their middle and high school students at Westover Hills complained about the RPS administration using them to offset costs in transportation.
"I don't understand why they don't see the impact of the transportation on parents, as if school administrators aren't parents or have children in Richmond Public Schools," Mrs. Langhorne said while several parents nodded and spoke in agreement.
Like many RPS students who live south of the James River, Ayanna will be catching her bus to Binford, located in the Fan District, from Westover Hills Elementary on Forest Hill Avenue.
The new transportation plan, approved by the School Board earlier this year, requires thousands of middle and high school students to walk or find their own transportation to their nearest elementary school to catch the bus to their respective schools. Students attending the city's eight middle schools, five high schools and three specialty centers are affected.
Although Westover Hills Elementary is a short 5-minute drive from their home, Mrs. Langhorne explained that she fears for her daughter's safety as the weather changes and traffic on Forest Hill Avenue increases.
"As a parent, I am extremely nervous about her having to walk here to catch the bus, which is why I took off today," she said.