Opening Bell
George Copeland Jr. | 9/6/2019, 5:59 a.m.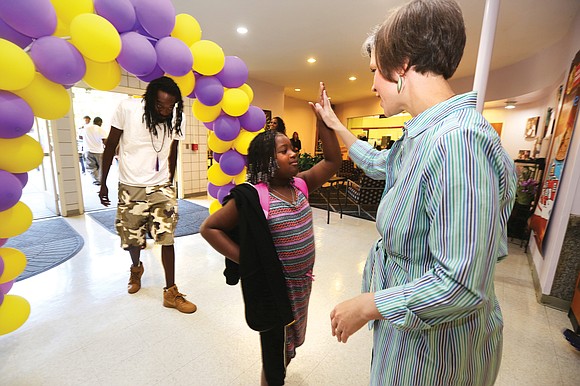 Richmond Public Schools students, parents, teachers and officials were up bright and early and full of optimism Tuesday morning for the beginning of the new school year.
"I love the high expectations that we have here at RPS," said Westover Hills Elementary School Principal Allison El Koubi. "If we want our kids to succeed, then we need to have high expectations and make sure that we're teaching grade-level content."
That positivity was echoed miles away on the grounds of E.S.H. Greene Elementary, a school whose opening was marked by transition — externally in the form of the new school building under construction behind the main building and adjacent trailers, and internally with the hiring of Dr. Juvenal Abrego-Meneses to serve as the school's principal.
"I expect nothing but the greatest and the best for students at RPS," said Greene Elementary Assistant Principal Katrina Holmes, standing a few feet away from an auditorium that earlier had served as an ad-hoc dispensary for hundreds of student backpacks.
Westover Hills and Greene elementaries, like a few other city elementary schools, opened a half-hour earlier than the rest of the district at 8:30 a.m., with participating schools now closing at 3:15 p.m. as opposed to 3:40 p.m.
The change was among a suite of developments going into effect this year, including the addition of 10 new electives, such as cooking, chorus and dance, for high school students; solar panels added to the roofs of about 10 schools; paper lunch trays to promote eco-friendly measures; and moving truancy hearings from courts to Martin Luther King Jr. Middle School.
Later on Tuesday night, the Richmond School Board voted unanimously to purchase 42,000 new Chromebooks for $1.29 million as part of a partnership with T-Mobile that will provide the laptops and personal internet-enabled devices to sixth-grade students to use throughout their time in middle school.
The shift to an early opening seemed to be an easy adjustment for the schools. Westover Hills staff, faculty, members of various partner groups and others assembled with Ms. El Koubi to greet new and returning students and parents in the school's lobby with high fives, hugs and donuts.
"I'm really excited. I think we're going to have a great year," said Bryce Lyle, who serves as a fundraising team leader for the Westover Hills Beaver Boosters, and whose daughter, Claire, is a third-grader at the school.
The day was marked with an enthusiasm for the future of RPS from those involved, stretching from Westover Hills to Greene Elementary and beyond.
Observing a student transitioning back to Greene Elementary from RPS' Thirteen Acres School, Melanie C. Brown, who works with the special school, views the early opening as providing students with "the opportunity to get a good start to the day and then be able to have some time to do homework in the afternoon, study and still have a little playtime in the evening."
"I think there's a real optimism about this school year," RPS Superintendent Jason Kamras said Tuesday night following the School Board meeting at City Hall and a long morning touring multiple schools with Richmond Mayor Levar M. Stoney and other RPS officials.