New D.C. museum opens with links to local people, history
9/24/2016, 10:17 a.m.
Mr. Jones' diary of their 1882 mission to save public lands in the West from private development was donated to the Smithsonian. That land is now Yellowstone National Park.
"Seeing the items on display, and walking through the museum where the entire history of my people is laid out for all to see and learn from, was emotionally mind-blowing, but in a positive way," said Dr. Lawton, an associate professor of art education at Virginia Commonwealth University.
In addition to the diary, the family donated Mr. Jones' Army-issued, pearl-handled revolver and other family items.


Benjamin Ross, church historian of Sixth Mount Zion Baptist Church in Jackson Ward, also attended the preview to see the church's donation — two deacon's chairs made in 1900 in Vienna by Austrian furniture makes Jacob and Josef Kohn.
"This is, of course, a big moment at the church to be a part of the new museum," he said.
Mr. Ross has served as church historian for 32 years. The church donated the chairs, which it had for 116 years, in August 2013.
Sixth Mount Zion was founded in 1867 by the renowned Rev. John Jasper. Mr. Ross said the church has had ties with the Smithsonian since 1988, when the church was featured in a Smithsonian-published book on the rise of black churches.
Sixth Mount Zion's sanctuary, built in 1897, will be shown at the museum in 1978 photos submitted by VCU Libraries' Special Collections and Archives. VCU also submitted an early 1900s postcard of the iconic Jackson Ward church and a digitized photograph of Robert R. Morton School for African Americans.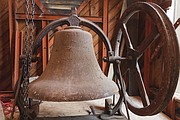 The Morton School was built in 1953 in Prince Edward County following a student-led strike in protest of segregated and inferior schools. After the 1954 landmark Brown v. Board of Education case before the U.S. Supreme Court, Prince Edward County and other Virginia localities closed their public schools rather than integrate. The tactic, known as "Massive Resistance," was championed by Virginia's segregationist leaders, including U.S. Sen. Harry F. Byrd Sr.

In Prince Edward County, the schools were closed from 1959 until 1964, and while provisions were made for white students to receive government-subsidized educations at private schools, no provisions were made for African-American children.
"The photographs and postcard were created during a near century-long struggle for African-Americans to improve their lives in the United States," said Dr. Wesley Chenault, head of special collections and archives at VCU's James Branch Cabell Library.

Dr. Rex M. Ellis of Williamsburg, a VCU graduate who earned his master's of divinity from Virginia Union University and a doctorate from the College of William & Mary, has served as associate director for curatorial affairs at the new museum since 2008. He previously was vice president of the historic area for the Colonial Williamsburg Foundation.
The museum's three-day opening festival, called "Freedom Sounds: A Community Celebration," will begin Friday, Sept. 23, and continue through Sunday, Sept. 25.
The festival, which is free and open to the public, will feature performances from Public Enemy, The Roots and dozens of other artists in unique themes for each day. Friday's theme is "Homecoming," Saturday's is "Celebration" and Sunday's is "Call and Response."

Distinguished guests will include First Lady Michelle Obama, former President George W. Bush and Laura Bush, Chief Justice John Roberts Jr. and civil rights icon and Congressman John Lewis of Georgia, among others.
For more information about the museum, including to reserve passes, go to http://nmaahc.si.edu.