Personality: Dr. Cheryl Ivey Green
Spotlight on new president of the Baptist Ministers' Conference of Richmond and Vicinity
9/24/2016, 1:53 p.m.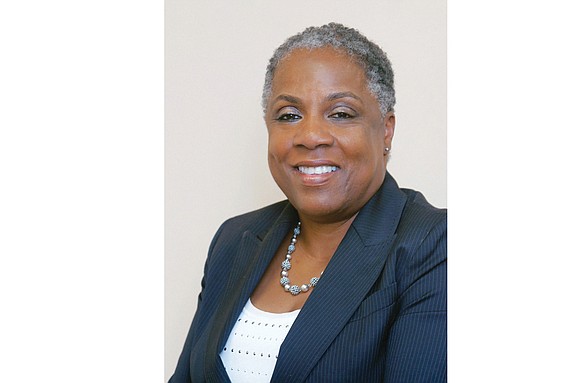 Dr. Cheryl Ivey Green wears many hats. She is the senior assistant to Richmond Mayor Dwight C. Jones. She is the executive minister of ministries at First Baptist Church of South Richmond. And she now is the new president of the Baptist Ministers' Conference of Richmond and Vicinity. Elected to the post in May, Dr. Ivey Green was installed as president in an evening ceremony last Sunday at First Baptist.
She succeeds Dr. Marlon Haskell, pastor of Chicago Avenue Baptist Church, in the two-year post. Dr. Ivey Green believes that while the core mission of the church never changes, the church changes and grows over time to meet the needs of people.
She sees her new role as one helping Richmond area pastors tailor their ministerial development "to meet the unique needs of their communities."
"The role of the church is to meet the spiritual, physical and often emotional needs of God's people," says Dr. Ivey Green.
"As times change, people change, needs change — and the church changes to meet the needs of the time."
Known for hosting its citywide revival each year, the Baptist Ministers' Conference maintains a membership of about 75 to 100 ministers who represent churches in Richmond, Chesterfield, Henrico, Hanover, Goochland and other surrounding counties. The organization works to foster social, political, economic, educational and religious development in the community.
Dr. Ivey Green's passion and interest in leadership training and development, as well as her educational and field credentials, including a doctor of ministry in preaching and leadership from United Theological Seminary, earned her a vote of confidence — and selection — from the organization's members.
She plans to use her platform as president to provide tools to clergy who hope to enact transformation in their communities. She hopes area pastors can continue to highlight the power of assembly to fight social, economic and spiritual ills.
Dr. Ivey Green is very connected to her communities. She is a member and chaplain of the Richmond Metropolitan Area Chapter of the National Coalition of 100 Black Women, serves on the board of the Richmond Behavioral Health Authority and recently completed several terms on the Board of Directors of the Southside Child Development Center.
The greatest challenge facing the Baptist Ministers' Conference, she says, is "for the church to remain relevant in this age of technology."
Apps like SermonAudio, YouVersion and Bible Hub have increased access to sermons, and many area churches live-stream their services so anyone can watch anywhere they are.
According to the annual Pew Research Center survey on worship trends in the United States, nearly 37 percent of Americans who do not attend church regularly or at all point to an issue directly related to religion or church itself — beliefs that attending worship services is important.
"Streaming, pod-casting and other alternative worship mediums appear to diminish the need to assemble for worship," Dr. Ivey Green says.
But the power is in getting together, she continues.
"The gathering of God's people has always been the strength of the church and community." Meet a leader of church leaders and this week's Personality, Dr. Cheryl Ivey Green: