New National Museum of African American History and Culture opens to fanfare, tears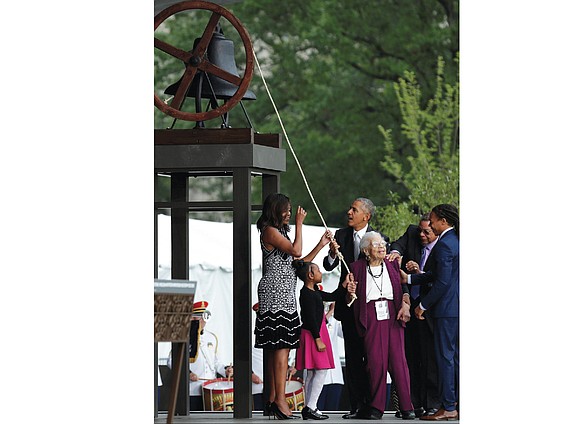 President Bush, accompanied by his wife, Laura, said the museum tells the unvarnished truth, that a country founded on the promise of liberty once held millions of people in chains.
"A great nation does not hide its history," President Bush said. "It faces its flaws and corrects them."
Rep. Lewis, who is featured in the museum, said he could feel the weight of history around the museum, with slave voices whispering of escape and church choirs singing of freedom.
"All their voices, roaming for centuries, have finally found their home here, in this great monument to our pain, our suffering and our victory," he said. After the speech, President Obama hugged the congressman as he returned to his seat.
Also on hand were former President Bill Clinton, U.S. Supreme Court Chief Justice John Roberts and House Speaker Paul Ryan; celebrities including Oprah Winfrey, Robert De Niro, Will Smith, Stevie Wonder, Angela Bassett, Patti LaBelle and an a capella jazz choir from Howard University that performed; and thousands of Americans who just wanted to witness the museum's opening firsthand.
"I'm just elated and can't express how much joy and gratitude I have to be here today and witness history," said Master Sgt. Donald Sparks of Houston, who just finished a yearlong deployment in Iraq.
Still, given the recent outbursts of civil unrest that have taken place in Charlotte, N.C. and Tulsa, Okla., following the shooting deaths of black men by police officers, the president also commented on what the museum cannot do.
"This museum won't end job discrimination, violence in our cities or so many other ills and examples of injustice that we face. Those things are up to us to change — by speaking out, protesting and voting," President Obama said. "Hopefully it will help us begin to talk to one another, really see one another and listen to one another.
The honor of helping President Obama open the museum's doors went to Ruth Bonner, 99, daughter of a Mississippi slave who escaped to freedom. The president and first lady joined Mrs. Bonner and her family in ringing a bell from the historic First Baptist Church of Williamsburg, to signal that the museum was officially open.
The church, believed to be among the first Baptist churches organized entirely by black people, acquired its Freedom Bell in 1886. It will be returned to the church for its 240th anniversary later this year.
The 400,000-square-foot museum, designed by British-Ghanaian architect David Adjaye, strikes a unique shape on the Mall with its three-tiered bronze exterior panels inspired by an African wooden column. The exterior tiles are inspired by 19th century ironwork created by slaves in the South, and allow sunlight into the museum through patterned openings.
Inside, museum officials say they have nearly 33,000 items occupying 85,000 square feet of exhibition space.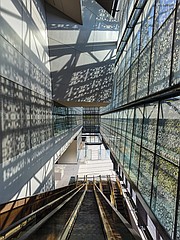 The museum's opening "finally marks the place and time where we're finally recognized ... and it's about time," said Shenise Foster of Alexandria.
Ken Chenault, one of the NMAAHC advisory council members and the CEO and chairman of American Express, commented on the willingness of so many to answer the clarion call to raise the millions of dollars that were needed to start the museum project.
"I look at this building with a great sense of pride," said Mr. Chenault. "Donors came from all across the planet — large donations and small donations — because so many people believed in the importance of building this museum. It will always remind us that what brings us together is stronger than what tears us apart."
Lonnie G. Bunch III, the founding director of the NMAAHC who led the fundraising drive, was overwhelmed with emotion.
"Today, a dream too long deferred is a dream no longer," he said.
He continued: "This is not just about telling the story of a people, but a nation's story and it will forever show how the lives of all Americans have been and will continue to be enriched because of the contributions of African-Americans."