'Just Mercy' author to speak April 12 at VCU
4/8/2017, 9:51 a.m.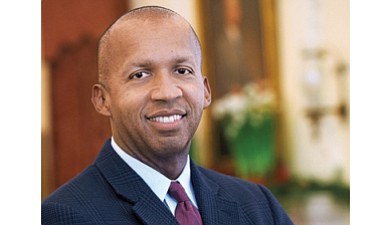 Bryan Stevenson, author of  "Just Mercy: A Story of Justice and Redemption," will speak 6 p.m. Wednesday, April 12, at Virginia Commonwealth University's Siegel Center, 1200 W. Broad St.- Mr. Stevenson's visit is sponsored by the Focused Inquiry faculty of University College at VCU, and is free and open to the public.
The book, a memoir of Mr. Stevenson's early days in legal practices, tells the story of one of his first cases involving a young man who had been convicted and sentenced to death for murder and his insistence of innocence.
Mr. Stevenson is the founder of the Montgomery, Ala.-based Equal Justice Initiative that works to end mass incarceration and excessive punishment in the United States and combats racial and economic injustice.
His book was chosen for the university's yearlong, university-wide Common Book Initiative for the current academic year. Copies of the book were given to 3,500 first-year VCU students, who attended discussions and a course on the book and the issues it raises.
In conjunction with his visit to Richmond, Mr. Stevenson also will speak at the Richmond City Justice Center, joined by VCU faculty and students. He also will meet with formerly incarcerated youth artists and tour an ART180 exhibit on display at VCU's Cabell Library.