Co-founders of Black Lives Matter movement to speak in Richmond
3/11/2016, 12:07 p.m.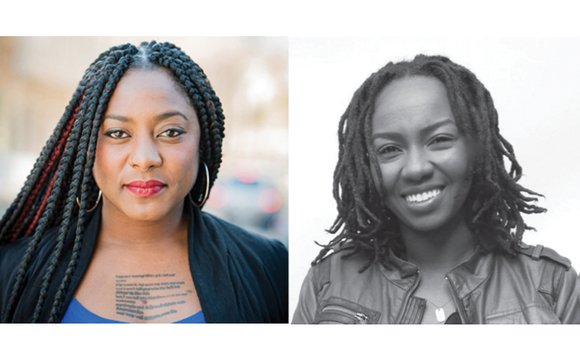 Two founders of the Black Lives Matter movement, Alicia Garza and Opal Tometi, will be speaking in Richmond this month.
Ms. Garza is to deliver a lecture 4 p.m. Tuesday, March 22, at the University of Richmond's Tyler Haynes Commons.
Ms. Tometi is scheduled to speak 7 p.m. Thursday, March 31, at Virginia Commonwealth University's Siegel Center, 1200 W. Broad St., on the topic "#BlackLivesMatter: Hashtag in Action."
Both events are open to the public without charge.
UR professors Jan French and Jennifer Erkulwater invited Ms. Garza to the university to complement a course they are teaching on human rights politics.
"We thought she could serve as an inspiration to our students," Dr. Erkulwater stated in the announcement, "and frankly to all people who care about social justice and human dignity."
Ms. Garza helped launch the Black Lives Matter movement when she posted her thoughts on social media about the acquittal of George Zimmerman in the fatal shooting of unarmed teenager Trayvon Martin in 2013 in Florida.
Ms. Tometi, along with Ms. Garza and Patrisse Cullors, created the Twitter hashtag #BlackLivesMatter after reading Ms. Garza's post.
The Twitter account helped launch a national uproar over the deaths of unarmed black men, as well as the iconic name and movement that youthful activists have embraced in Richmond and elsewhere.
Ms. Tometi currently is executive director of the Black Alliance for Just Immigration, a national organization that educates and advocates for immigrant rights and racial justice.
The VCU School of Social Work is sponsoring Ms. Tometi's visit in cooperation with the school's Black Lives Matter Student-Faculty Collective.
According to the collective, the goal of bringing Ms. Tometi to Richmond is to serve as a call to action for improving the situation in this community.
Additional information about the VCU talk: Stephanie Odera, sgodera@vcu.edu or Daryl Fraser at fraserdv@vcu.edu. Both are assistant professors in the VCU School of Social Work.
Additional information about the UR talk: Sunni Brown, (804) 289-8056 or sbrown5@richmond.edu