Black Lives Matter co-founder brings message to Richmond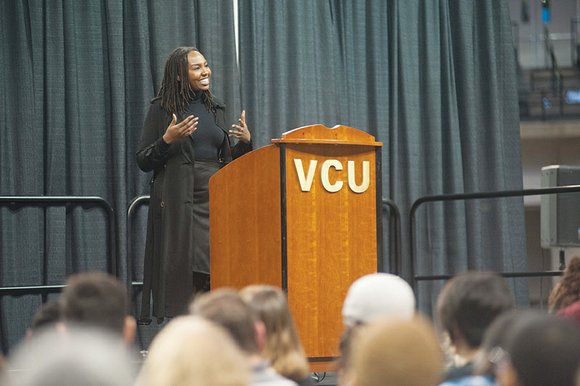 Opal Tometi, a co-founder of Black Lives Matters, said she and other leaders of the movement consider slogans, marches and rallies for just treatment for African-Americans to be critical, but it's more important "to move to systems that protect and affirm black life."
"We need to shut down and divest from many of these systems" that put black people's lives and well-being at risk, she said.
Speaking to an audience of 1,000 people last Thursday at Virginia Commonwealth University's Siegel Center, the eloquent 28-year-old New York City resident cited as an example a proposal last year in the Big Apple to provide $100 million to hire 1,000 more police officers to combat crime.
She said she and others in the city organized a group, Safety Beyond Policing, calling for the money to be steered into other "systems and projects that could keep our people safe and alive," such as hiring more social workers, teachers and mental health professionals.
"We need to define safety on our own terms" in black people's lives so they "don't live in dilapidated housing, have lead in their water" and have to fear "dozens of police" stopping and frisking them in their communities, she said.
Ms. Tometi was invited to Richmond through the VCU School of Social Work. The event was coordinated by the School of Social Work Black Lives Matter Student-Faculty Collective.
"As the Black Lives Matter movement grew, we felt it was important for us to join them in taking a stand against injustice," VCU assistant professor Stephanie Odera told the Free Press.
"I'm here as a cheerleader, to encourage you to keep the fight going," Ms. Tometi told the attentive audience.
She described herself to the largely youthful audience as a community "organizer and abolitionist for the 21st century," saying, "At times like this, you don't get to sit on the sidelines.
"If you aren't actively part of the movement, you are on the side of injustice," she added.
In addition to her work with Black Lives Matter, Ms. Tometi, the daughter of Nigerian immigrants, is the executive director of Black Alliance for Just Immigration.
Ms. Tometi spoke of being motivated to help start Black Lives Matter in the wake of recent highly publicized slayings of unarmed young black men, including 17-year-old Trayvon Martin by night watchman George Zimmerman in Sanford, Fla., and 18-year-old Michael Brown Jr. by police officer Darren Wilson in Ferguson, Mo.
"The system's working as it was designed — to systematically undermine and get rid of black lives," she told the audience.
She also lashed out at the mass incarceration of African-Americans, the heavy police presences in black communities that cause residents to fear for their safety and inequitable economic opportunities.
"It's your civic duty to call it out and do something about it," she said.
Ms. Tometi said she wakes up every morning and asks, "What I can do for Black Lives Matter" today.
She said she works for the movement because of her "love" for her 14-year-old brother and other young African-American males who she fears could be executed like Trayvon.