Gorsuch sworn in to high court
Reuters | 4/13/2017, 7:13 p.m.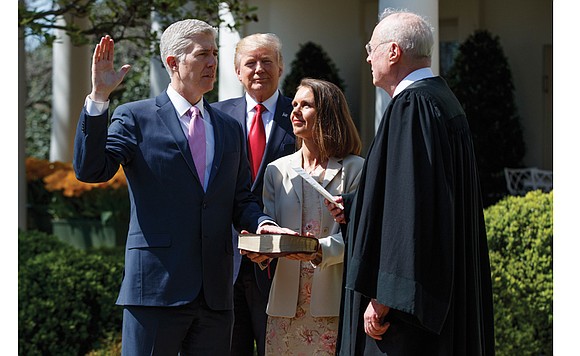 WASHINGTON
President Trump reveled in the biggest political victory of his presidency at a White House ceremony on Monday in which his U.S. Supreme Court pick Neil Gorsuch was sworn in, poised to make an instant impact on a court once again dominated by conservatives.
President Trump fulfilled a top campaign promise when the Republican-led U.S. Senate voted to confirm the conservative Colorado-based federal appeals court judge to the lifetime job last Friday despite vehement Democratic opposition.
Justice Gorsuch's nomination also was opposed by numerous civil rights and advocacy groups, including the National Urban League, the NAACP Legal Defense Fund, and the Lawyers Committee for Civil Rights Under Law. The organizations expressed concern about his record of judicial opinions restricting access to justice in federal courts, upholding the death penalty, ruling against claims of employment discrimination, harassment and retaliation, and opposing disability rights and equal rights for LGBTQ people.
With Justice Gorsuch, the nation's highest court now has five conservative justices and four liberals, a majority that could be pivotal in deciding a range of issues, including abortion, gun control, the death penalty, presidential powers, political spending, environmental regulation and religious rights.
Standing in the White House Rose Garden on a warm spring day, President Trump tied the occasion to the political aims of his administration as the eight other members of the court looked on.
"Together we are in a process of reviewing and renewing and also rebuilding our country," President Trump told an audience that included conservative activists and administration officials. "A new optimism is sweeping across our land and a new faith in America is filling our hearts and lifting our sights."
Justice Gorsuch filled a vacancy that had lingered for nearly 14 months after conservative Justice Antonin Scalia's death in February 2016. The judicial oath was administered by Justice Anthony Kennedy, for whom Justice Gorsuch worked as a clerk as a young lawyer. He becomes the first justice to serve alongside a former boss.
Justice Gorsuch, 49, could serve for decades. And President Trump may be able to make further appointments to make the court even more solidly conservative, with three justices age 78 or older: Justice Ruth Bader Ginsburg, 84; fellow liberal Stephen Breyer, 78; and conservative swing vote Justice Kennedy, 80.
President Trump made a point of thanking Senate Majority Leader Mitch McConnell of Kentucky for his role in winning the confirmation. Republican McConnell last week led the effort to change long-standing Senate rules in order to end a Democratic blockade of Justice Gorsuch's nomination. Under Sen. McConnell's leadership, the Senate last year refused to consider former President Obama's nomination of Merrick Garland to replace Justice Scalia, an appointment that would have tilted the court to the left for the first time in decades.
"I've always heard that the most important thing that a president of the United States does is appoint people, hopefully great people like this appointment, to the United States Supreme Court," President Trump said. "He will decide cases not based on his personal preferences but based on a fair and objective reading of the law."