Gorsuch sworn in to high court
Reuters | 4/13/2017, 7:13 p.m.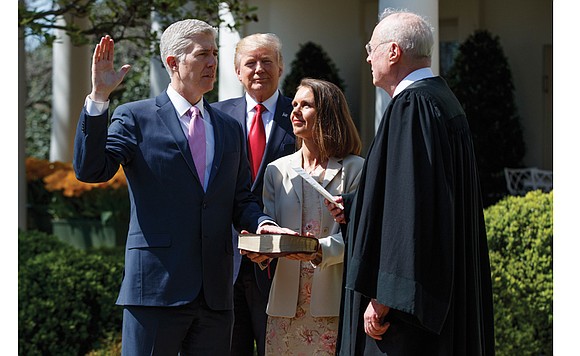 During last year's presidential campaign, President Trump pledged to pick a justice who would overturn the landmark 1973 Supreme Court Roe v. Wade ruling that legalized abortion. During his Senate confirmation hearing, Justice Gorsuch declined to answer about whether Roe v. Wade and other important court precedents were properly decided.
"To the American people, I am humbled by the trust placed in me today," Justice Gorsuch said, with his wife, Marie Louise, and President Trump standing behind him. "I will never forget that to whom much is given, much will be expected. And I promise you that I will do all my powers permit to be a faithful servant of the Constitution and laws of this great nation."
Justice Scalia's widow, Maureen, also attended.
Earlier in the day, Justice Gorsuch took his separate constitutional oath, administered by Chief Justice John Roberts, in a private ceremony at the Supreme Court with the other justices.
Justice Gorsuch will take part in the court's next round of oral arguments, starting on Monday, April 17. They include a religious rights case in which a Missouri church is objecting to being denied state funds for a playground project due to a state ban on providing public money to religious organizations.
Justice Gorsuch can be expected to have an immediate impact on the court. He takes part on Thursday, April 13, in the justices' private conference to decide which cases to take up.
Among cases up for discussion is one in which gun activists are seeking to expand gun rights to include carrying concealed firearms in public. Another is a bid to reinstate Republican-backed North Carolina voting restrictions that a lower court found were intended to suppress African-American voter turnout. A third concerns whether a Christian bakery owner can object on religious grounds to making a cake for a gay couple.
With Justice Gorsuch sworn in, his new colleagues could decide to hear new arguments in their next term, starting in October, in cases argued during their current term in which they may have been split 4-4 and did not decide.