Stations of the Cross to be held Friday along Brookland Park Boulevard
4/13/2017, 8:30 p.m.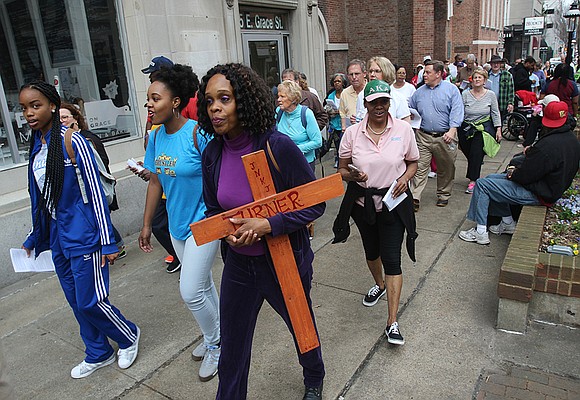 A coalition of North Side churches is hosting Stations of the Cross along Brookland Park Boulevard from 3 to 4 p.m. on Good Friday, April 14.
People of all ages and faiths are invited to participate in the walk that will include prayers for justice, peace and healing in Richmond and around the state.
The group will start at St. Philip's Episcopal Church, 2900 Hanes Ave, and will walk to Scott's Funeral Home at 115 E. Brookland Park Blvd. and back.
At each of the 14 stops along the way, a short Scripture passage will be read, followed by prayers and a hymn.
Mother Phoebe A. Roaf, rector of St. Philip's, said different prayers will be said at each station, including prayers for victims of murder and sexual violence and abuse, for local, state and regional government leaders and for all people involved in the criminal justice system.
"This was started about 10 to 12 years ago by St. Philip's and St. Thomas Episcopal Church after the murders of several young people in the North Side neighborhood," Mother Roaf said. "The stops were made at the places where they died."
While the neighborhood hasn't been plagued with such crime in recent years, homicides continue in the city. Most recently, two men, ages 18 and 20, were fatally shot and killed last Saturday in a double homicide in the Midlothian Village apartment complex in South Richmond. And two teens, ages 15 and 16, died following a double shooting March 29 in front of an apartment building on Accommodation Street in Mosby Court.
"It is important as a faith community to come together on Good Friday as positive witnesses, knowing that Jesus Christ himself was murdered in front of his mother, which is why this is relevant today. Even in the midst of despair, we know that God is present and with us," Mother Roaf said.
Other churches participating in the Stations of the Cross include St. Thomas Episcopal Church, Ginter Park Baptist Church, Ginter Park United Methodist Church and Ginter Park Presbyterian Church.
A bluegrass band from St. Thomas Episcopal Church will provide music.
For more information, contact St. Philip's Episcopal at (804) 321-1266.