Nonprofit counseling group to move into East End Family Resource Center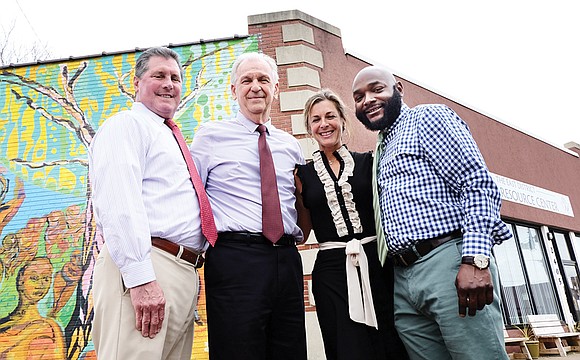 A nonprofit with deep roots in Church Hill expects to move soon into the East End Family Resource Center, 2401 Jefferson Ave.
Challenge Discovery Projects, which operates three programs focusing on the emotional health and well-being of children and families, is seeking to raise its profile by making the center its new home.
Founded 37 years ago, CDP and its 11-member staff have long made their home in the basement of the Vernon J. Harris Community Health Center, a medical center that serves people with few resources or no health insurance.
"It's a windowless space," said Denise Barnes, CDP's development director, which, she said, is conducive for privacy, but is not particularly welcoming.
The move to the resource center, possibly by the summer, would enable the group to raise awareness about its programs and allow it to do more to serve residents, according to Daniel R. "Dan" Stembridge, the longtime executive director and one of the founders of CDP.
The opportunity arose as the East End Family Resource Center laid off its staff and shut down many of its programs in the past six months, particularly the emergency assistance programs and health services.
Dr. Kevin Allison, chairman of the resource center's board and a senior assistant to the president of Virginia Commonwealth University, said that his board has been looking for a community-oriented group like CDP that could make use of the 6,000 square feet of space.
CDP is leading a campaign to raise an estimated $200,000 to pay for needed renovations to the building.
That's a big undertaking for the group, which operates on an annual budget of about $1.1 million, said Dan Niccolucci, president of the board and a retired vice president for Whiting-Turner Construction Co.
He said the board is working to secure the funding so the work can begin as soon as possible.
The center currently "has a large community space, and we plan to keep that intact so it can continue to be used for events and other operations," Mr. Stembridge said.
The rest of the building would be altered to accommodate CDP programs, he said.
CDP was born in 1980 when Mr. Stembridge teamed with Dr. Dennis L. Hawley, a clinical social worker, and Dr. George Bright to create CDP, although Dr. Bright left soon after its creation. Dr. Hawley is still involved.
The main programs include the Virginia Health Center, an outpatient clinic that provides counseling services to children and teens with substance abuse problems and other emotional issues.
The goal is to aid young people and also to work with their families to address the full range of problems, Mr. Stembridge said.
CDP also offers counseling and emotional health services for youths who are deaf or hard of hearing and their families. For example, the program offers instruction in sign language to help relatives better communicate with adolescents who cannot hear.
Since 2000, CDP has offered "Say It With Heart," which sends staff weekly to city schools in Church Hill to offer an anti-bullying and violence prevention program to students. The program, according to CDP, seeks to promote a positive self-image, positive communications and positive relationships.
As part of the effort, CDP offers a step program called "Gents and Gems" as an upbeat addition, said Curtis Lee, a CDP staff member who leads the "Say It With Heart" effort.
Overall, the programs touch the lives of about 1,600 children and adults annually, Mr. Stembridge said.

"We believe we are making a difference," he said, and that "we will be able to do even more for the community once we move into our new home."