Fate of East End school on hold
8/4/2017, 7:55 a.m.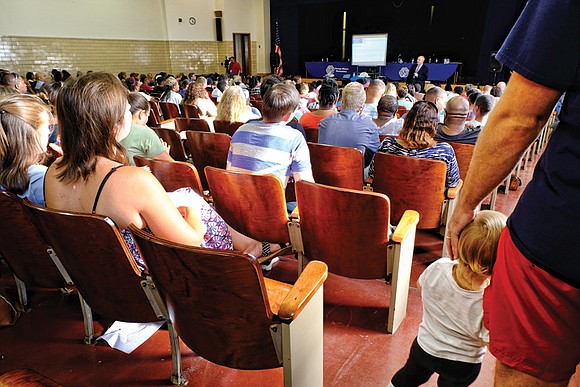 George Mason is the proverbial canary in the mine, as two-thirds of the city's public school buildings are more than 50 years old and many are in disrepair, according to Mr. Kranz.
On Monday, Mr. Kranz offered a suggestion — a $6 million bond to install a new heating and air conditioning system, replace all of the school's windows and doors and possibly renovate the restrooms.
Ms. Talley said the proposal is another expensive Band-Aid that will not solve the problem. A new school building is needed, she said.
Her sentiment was echoed by E. Martin "Marty" Jewell, a former member of Richmond City Council and advocate for the city schools.
"The only real answer is to build a new school," he told the board at the meeting. "And don't tell me we don't have the money. We're not lacking money. We are lacking in moral judgment. You can't do this to children and expect to be respected."
School Board member Jonathan Young, 4th District, attempted to make a motion to have the students, teachers and staff moved from George Mason to Franklin Military Academy before the 2017-18 school year starts on Sept. 5. Franklin students, in turn, would be moved to join students at Richmond Community High School.
But board Chairwoman Dawn Page shut down the motion, saying the purpose of Monday's meeting was solely to hear from the public. She said a vote will be taken during the board's meeting on Monday, Aug. 7.
Mr. Young told the Free Press on Tuesday he felt a sense of urgency and that the board needed to take immediate action.
"It's just unacceptable for kids to go to school under these conditions," he said. He added that not voting presents an inconvenience for people who may not be able to come to the next School Board meeting.
"Anybody who has come out for two hours, listening to one speaker after another … to have the meeting adjourn with no action is a little disheartening."
Ms. Page told the Free Press via email that five different plans recommending repairs at all of the schools and their estimated cost have been prepared during the past 15 years for the School Board at a substantial cost to taxpayers.
But recent intervention at RPS by the Virginia Department of Education may be the game changer for George Mason Elementary and all city schools. A recent memorandum of understanding signed by RPS and the state pushes the school district to take the next step, she said.
"The recent review of the memorandum of understanding indicated that the school district has developed construction plans, but a corrective action plan requires the city to develop a funding plan," Ms. Page said. "The School Board, City Council, mayor, and the city must continue to work collaboratively to ensure that we are committed to creating a funding plan and taking action now."