Lineman Allen ready for action
8/11/2017, 11:54 a.m.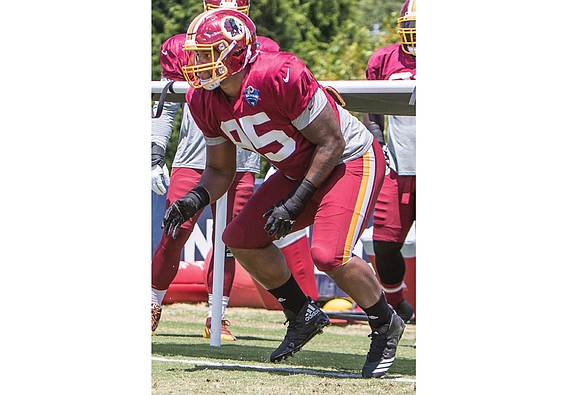 Jonathan Allen is a proven winner on the gridiron.
He has won an NCAA championship plus a fistful of the nation's top individual defensive awards. Now the man mountain is lined up to win the hearts of Washington NFL fans.
Wearing burgundy and gold No. 95, Washington's first round draft choice will get his first chance to impress the people on Thursday, Aug. 10, in an exhibition game against the Baltimore Ravens in Baltimore. Allen is anxious to lay a hit on someone other than a teammate following the 7:30 p.m. kickoff.
"I love contact, hand-to-hand combat," the defensive lineman told reporters at the Bon Secours Training Center in Richmond, where the Washington team holds its preseason practice. "So just the physicality of the game is what I look forward to most."
Allen's credentials, both individually and from a team standpoint, are impeccable. He was a consensus All-American pick and Southeastern Conference Defensive Player of Year during his senior year at the University of Alabama. The Crimson Tide was 51-6 during his four seasons, winning the NCAA crown in 2015 and finishing second to Clemson University a year ago. Allen was never red-shirted.
Nationally, Allen added the Bronco Nagurski, Vince Lombardi and Chuck Bednarik awards as top defender in 2016. He played both inside and outside line positions for Alabama Coach Nick Saban.
Washington's coaching staff was elated Allen was still available when their first draft pick — 17th overall — came around.
Allen was the fourth defensive lineman drafted, following Myles Garrett (first overall by the Cleveland Browns), Solomon Thomas (third overall by the San Francisco 49ers) and Derek Barnett (14th overall by the Philadelphia Eagles.)
Allen might have gone several slots higher if not for concerns about his shoulders. Both have been surgically repaired due to an arthritic condition.
Still, he looked solid at the NFL Combine in Indianapolis. He ran the 40-yard dash in 5.0 seconds, performed 9-foot-10 in the standing broad jump, has a 30-inch vertical leap and pumped 22 repetitions bench pressing 225 pounds.
All indications so far show that Allen is fully recovered and ready to plug a large chunk of real estate in the defensive trenches.
"He doesn't say a lot," said Washington Coach Jay Gruden. "He's very strong, very strong. And he's willing to work, which is good. Just in the short time he's been with us, he's put on a lot of muscle mass."
Allen's arrival is well timed. Washington is in need of defensive assistance.
Of 30 NFL teams, Washington was 28th a year ago in total defense, with a generous per-game yield of 378 yards.            
Allen is about the closest thing Washington has ever had to a hometown hero. He hails from Stone Bridge High School in Ashburn, just minutes from the team's permanent training site northwest of Washington. In 2012, he was Gatorade Player of the Year for Virginia, drawing nationwide college recruitment.     
Until heading to the University of Alabama, Allen attended Washington preseason practices and was an avid fan.
Through mutual friend Nick Turner, Allen once provided muscle in helping Chris Cooley, a former Washington tight end, with moving furniture from one residence to another.
Now it's time for Allen to transfer his heavy lifting skills to the middle of the football field. Few seem better equipped to carry the load.