Washington signs Alabama players in NFL draft
5/5/2017, 7:57 p.m.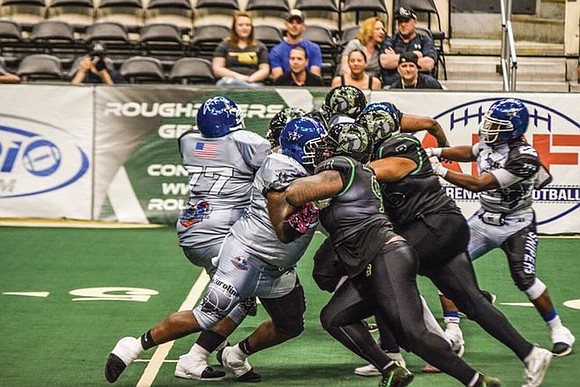 When you need a hammer and nails, you go to the hardware store. When you need milk and bread, you head to the grocery.
When you're an NFL team desperate for defensive help, a wise place to shop is the University of Alabama.
Clearly, that was Washington's plan in last week's NFL Draft held in Philadelphia.
The D.C. squad used its first round pick for Alabama defensive lineman Jonathan Allen and its No. 2 selection for Crimson Tide linebacker Ryan Anderson.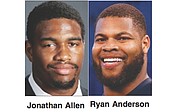 Despite a solid 9-7 record, the Washington NFL team finished 28th overall, out of 32, in total defense. Meanwhile, Alabama was No. 1 overall in the NCAA, allowing only 21 touchdowns in 15 games.
With Allen and Anderson acting as twin wrecking balls on defense, Alabama won the NCAA title in 2015 and was runner-up to Clemson University this past season.
Allen will need no GPS to arrive for workouts later this month at the team's training site in Ashburn. He is from Leesburg and starred at Stone Bridge High in Ashburn, where he was twice All-State Group AAA.
The 6-foot-3, 291-pounder was the Southeastern Conference Defensive Player of the Year this past season and finished seventh in Heisman Trophy voting.
Other Allen honors were Vince Lombardi, Chuck Bednarik and Bronko Nagurski Player of the Year accolades.
For Alabama Coach Nick Saban, Allen posted 69 tackles, including 16 for losses this past season.
On the debit side, there is lingering uneasiness about Allen's health after having undergone surgery on both shoulders. His height and arm length are also somewhat suspect.
Washington figures to experiment with Allen at nose tackle and end in its 3-4 defensive alignment. He figures to help plug the gap on the line left by Chris Baker, who bolted Washington to sign as a free agent with the Tampa Bay Buccaneers.
Anderson is a 6-foot-2, 249-pound, All-SEC pick who led Alabama with 19 tackles for losses and nine sacks. While there is concern over Anderson's speed (4.78 seconds in the 40) and arm length (30.5 inches), he is considered a physical and savvy performer who could be a Day 1 starter.
Washington has a hole to fill since linebacker Trent Murphy was suspended for the first four games of the upcoming season because of a performance-enhancing drug violation.
•
The NFL draft nowadays is mostly about big men hailing from big-name colleges. That doesn't mean there isn't room for a little guy from a historically black college or university.
North Carolina A&T State University running back Tarik Cohen — all 5-foot-6 of him — was the Chicago Bears' fourth round pick.
Cohen rushed for a MEAC record 5,619 yards and was Conference Offensive Player of the Year three times.
He was the first recipient of the Deacon Jones Award as the nation's top HBCU performer.
At the NFL Combine in Indianapolis, Cohen covered 40 yards in 4.42 seconds, the third swiftest among running backs.
Those who have tried to tackle him, however, say the swivel-hipped former Aggie is as fast running sideways as he is straight ahead.