Hughes bouncing back for VUU
Fred Jeter | 12/15/2017, 7:23 a.m.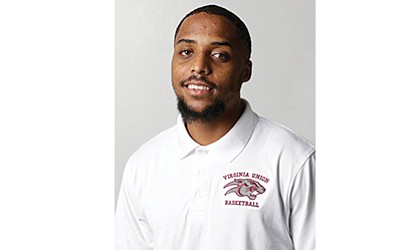 Virginia Union University basketball fans never really got to know Todd Hughes a year ago.
On Nov. 30, 2016, he suffered a torn anterior cruciate ligament, or ACL, in a game at the University of the District of Columbia and was lost for the remainder of the season.
This season, the 6-foot-3, 195-pound shooting guard is atoning for lost time — albeit with a supportive brace on his right knee.
He insists his knee woes are yesterday's news.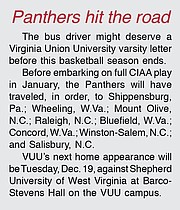 "I have no problem — no problem! — going to the rack," he said confidently, deflecting any notion he was favoring his right leg.
Statistics support Hughes' full recovery proclamation. After 10 games, the accounting major averaged 10.7 points and 5.5 rebounds while leading the Panthers in 3-point connections (14) and 3-point percentage (.522) — and all that in about 21 minutes per game.
The Panthers are now 5-5 for the season.
"Todd can flat out score," said VUU Coach Jay Butler. "He was our missing part a year ago. He's the kind of player you want taking big shots at the end of games."
Hughes can be a highlight reel, too, as evidenced by him winning a dunk contest at Delaware State University where he began his collegiate career.
Caught on YouTube, Hughes flips the ball off the backboard, performs a full 360-degree twist in the air, snags his own rebound and finishes the gravity-defying act with a two-handed thunder slam.
Hughes enrolled at Delaware State following a brilliant high school career at the private Sanford School near his hometown of Smyrna, Del.
At Sanford, Hughes scored more than 1,000 points, led his squad to a Delaware private schools state title and was named first team All-State.
He chose Delaware State in nearby Dover because of proximity, but became disenchanted with the Division I MEAC affiliate.
"I don't want to say anything bad about anyone, but I like to win," he said. "I researched a lot of schools when I decided to transfer and felt Virginia Union would be a good choice."
As a sophomore in 2015-2016, Hughes was part of a 7-25 Delaware State outfit.
When news spread he was changing college addresses, VUU's unofficial alumni recruiting society became involved.
"Really, A.J. got it started," Coach Butler said, referring to former VUU All-American A.J. English, who hails from Wilmington, Del., about 35 miles north of Smyrna.
"I've known A.J. for years, through high school, travel ball and clinics," Hughes said. English's son, A.J. II, was playing prep hoops in Delaware about the same time.
Also putting in an encouraging word for the VUU maroon and steel was Ray Anderson, another Wilmington product who was named CIAA Player of the Year last season as a senior. Anderson and Hughes were contemporaries in Delaware hoops circles.
Because of his injury, Hughes' first season as a Panther unfortunately was a wash. That's why he's intent on cramming two seasons of productivity into the one he has left.