Hampton picks Prunty to lead Pirates
Fred Jeter | 12/22/2017, 3:34 p.m.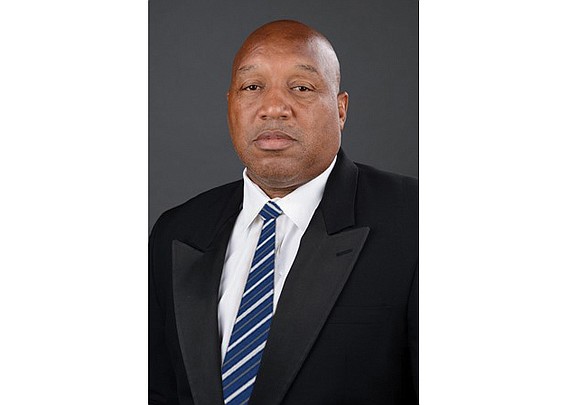 Hampton University will be moving into a new conference, the Big South, with a new football coach, Robert Prunty.
"I'm up for the challenge," Coach Prunty said during a introductory news conference Dec. 9 at the HU Student Center.
"I didn't come here to lose, make no mistake about that," he said. "You've got a winner now."
Coach Prunty was introduced by HU Athletic Director Eugene Marshall and university President William R. Harvey.    
The Chatham native succeeds Connell Maynor, who resigned last month following a four-year stint in which the Pirates were 20-25 overall and 17-15 in the Mid-Eastern Athletic Conference, or MEAC.
These are changing times at HU.
The Pirates will enter the Big South Conference this summer, following lengthy associations with MEAC (1996 to present) and the CIAA (1912 to 1995).
Because of previous scheduling commitments, HU may not play a full Big South football schedule until 2019.
Although lacking head coaching experience, Coach Prunty arrives with a powerful reputation as a recruiter from his previous assistant coach posts. He was twice named Big 12 Recruiter of the Year at Texas Tech University and twice named American Athletic Conference Recruiter of the Year at the University of Cincinnati, both under head Coach Tommy Tuberville.
Last season, Coach Prunty served as an assistant at East Carolina University in Greenville, N.C.
Prior to entering the college ranks, Coach Prunty was head coach at Gretna High School and Hargrave Military Academy, both in his hometown.
Coach Prunty will need no road map to navigate Hampton Roads. He was a linebacker at HU in 1983 and 1984 before transferring — leaving with Coach Ed Wyche — to Alabama A&M University in Huntsville.
Contrasting its hiring of Coach Maynor in 2014, HU has taken a different approach in landing Coach Prunty.
Coach Maynor posted a brilliant 45-6 record at NCAA Division II Winston-Salem State University before arriving at HU. Division II is a step below HU's Football Championship Subdivision (FCS) alignment.
Coach Prunty arrives from a university one step up on the NCAA pecking order, the Football Bowl Subdivision (FBS).
HU is hopeful Coach Prunty's recruiting talents will help the Pirates recapture past glory. The program hasn't won a MEAC title or been to the NCAA playoffs since 2006, when Joe Taylor, now the athletic director at Virginia Union University, was the Pirates' coach.
Coach Prunty's first goals include re-establishing HU as a desirable fit for the talent-rich Peninsula and Hampton Roads.
HU had only 16 players from the 757 area code this past year, about half that of nearby Norfolk State University.
"No question, we will be relentless in recruiting the 757," Coach Prunty told his audience.