3 area students receive scholarships from Pi Lambda Theta
2/24/2017, 12:51 p.m.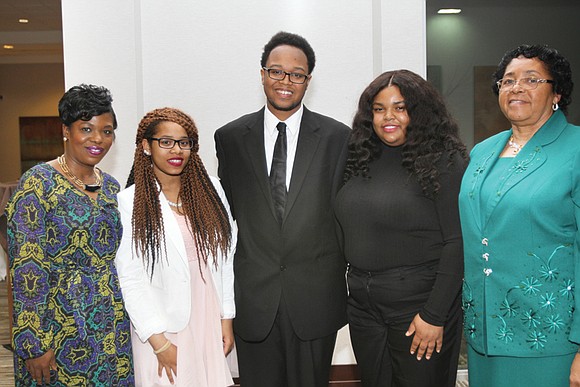 Three Richmond area high school seniors with dreams of becoming teachers received scholarships last Saturday at the annual Masquerade Gala benefit dinner-dance of the Virginia Area Chapter of Pi Lambda Theta International Honor Society and Professional Association in Education.
More than 170 people were on hand as the chapter, led by President Rahmah T. Johnson, awarded two $1,500 scholarships named for the late Virginia Union University educator Dorothy Cowling to DaRon Lightfoot and Jaelynn Scott, and gave a $500 book award named for retired Richmond educator Virgie Binford to Ericka Black.
DaRon, a senior at Hermitage High School in Henrico County, plans to attend Marymount University in Northern Virginia in the fall. He is the son of Libra Orange.
Jaelynn, the daughter of Bonita Parham and Melburn Prosise, attends J.R. Tucker High School in Chesterfield County. She plans to attend the University of Mary Washington in Fredericksburg.
Ericka, a student at Thomas Jefferson High School in Richmond, plans to attend Virginia Union University in the fall. She is the daughter of Todd Black and Neidra Singleton.
Participants also dined and danced to the music of Cloud 9 at the Mardi Gras-style event.