Clarence L. Townes Jr., longtime business, civic leader, dies at 88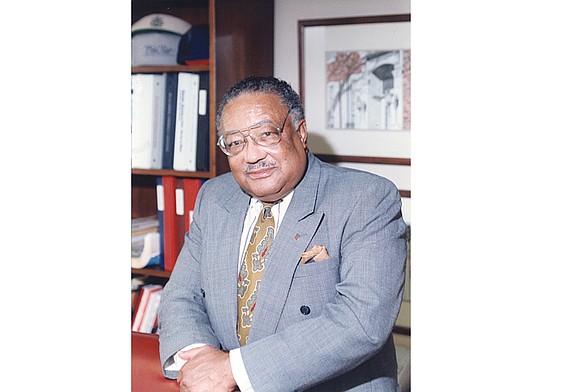 Clarence Lee Townes Jr. left his fingerprints on Richmond over the course of six decades of involvement in civic affairs.
A bulldog of a man, with a gruff voice and a penchant for straight talk, he was a key player in creating landmarks that people take for granted — from the Greater Richmond Convention Center and Marriott Hotel to the Canal Walk by the riverfront.
He packed his life with community involvement, ranging from the Richmond School Board to banking and business as part of his effort to boost economic and political opportunities for African-Americans and to overcome racial divisions.
Among his most significant contributions to the city was his role in helping to found and lead Richmond Renaissance, now Venture Richmond, as a way to bring a government with an African-American majority and the largely white business community together to push Downtown revitalization.
Those who worked with Mr. Townes called him instrumental in making Richmond Renaissance an engine of Downtown development, but more importantly in building trust between captains of industry and Richmond City Council.
He also was successful in business. He founded and ran one of Richmond's first African-American-owned charter bus companies, led the development of one of the first new apartment complexes in Church Hill and was among the early investors who enabled the late Raymond H. Boone to launch the Richmond Free Press in 1992.
For many, he was the man to see to get things done in the city or even run for office.
Mr. Townes also played a role in boosting African-American influence on national policies. During the eight years he spent in Washington in the 1960s and early 1970s, he worked with Howard University to launch one the first think tanks focusing on African-American issues, the independent Joint Center for Political and Economic Studies, which is still going strong.

But his heart was always in Richmond, said his wife of 65 years, Grace Elizabeth Harris Townes, a retired Richmond schoolteacher.
"He loved Richmond. Whenever he met someone who just moved to the city, he would ask them, 'What brings you to paradise?' And he meant it."
His role in and contributions to Richmond ended Wednesday, Jan. 11, 2017, when he died at a Richmond hospital after battling health issues. He was 88.
Final tributes will be paid to the Richmond native at noon Saturday, Jan. 21, his birthday, at Second Baptist Church, 1400 Idlewood Ave., where he was a longtime member and trustee. The pastor, Dr. James Harris, will officiate.
A Phi Beta Sigma Fraternity memorial service will be held 6 p.m. Friday, Jan. 20, at Scott's Funeral Home, 115 E. Brookland Park Blvd., with the family receiving friends from 6:30 to 7:30 p.m.
Born in 1928 on the eve of the Great Depression in segregated Richmond, Mr. Townes was the son of a founder and vice president of the former Virginia Mutual Benefit Life Insurance Co., one of two African-American-owned insurance firms in Richmond.
After graduating from Armstrong High School and Virginia Union University, Mr. Townes served as an Army lieutenant during the Korean War and then returned to Richmond to work in the insurance business with his father.