Henry L. Marsh III to introduce his memoir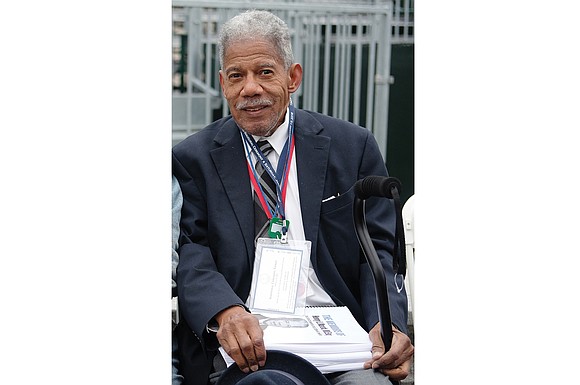 He had his sights set on making his living as a truck driver.

Then Henry L. Marsh III went with a group of high school buddies to hear a school desegregation case in Richmond, and that experience changed his life.
In his soon-to-be released memoir, Mr. Marsh describes how he listened enthralled to the arguments of two Richmond legal greats, future law partner Oliver W. Hill Sr. and future federal Judge Spottswood W. Robinson III.
"I liked the way they handled themselves and how the judges respected them," Mr. Marsh recalls. "I didn't understand all that they were saying, but … when I saw what (they) were trying to do, I was impressed."
Then and there, he writes that he decided he, too, wanted to be a lawyer to "help make positive change happen."
Nearly 60 years later, the soft-spoken 84-year-old Mr. Marsh is using his pen to take a walk back through the history he helped create as an attorney on the front lines of the legal wars for civil rights and as a longtime public official, including his rise to become the first African-American mayor of Richmond and service in the Virginia Senate.
Mr. Marsh provided the Free Press with an advance copy of "The Memoirs of Hon. Henry L. Marsh III: Civil Rights Champion, Public Servant, Lawyer" in which he offers anecdotes and memories of the role and he others had in attacking government-enforced and business-condoned segregation. He dedicated the book to his wife, Diane Harris Marsh, a former dentist.
Mr. Marsh is scheduled to introduce his 232-page memoir 4 p.m. Monday, March 26, at an event the University of Richmond's Black Law Student Association is hosting at the Law School.
His book adds to the literature now focusing attention on the role African-American attorneys in Virginia played in dismantling legal barriers to equality. Much of Mr. Marsh's book focuses on his work with Hill, Tucker & Marsh, the law firm he as a newly minted lawyer helped create with Mr. Hill and attorney Samuel W. Tucker.
The firm, which would produce at least 10 future judges, was a bulldog on civil rights, recounts Mr. Marsh, a Virginia Union University graduate who earned his law degree at Howard University.
Mr. Marsh states that one reason for the firms' activity was its willingness sue local school boards for engaging in Massive Resistance to desegregating public schools as required in the famed 1954 Brown v. Board of Education case.
"We were constantly fighting against race prejudice," he recalls. "For instance, in the case of Franklin v. Giles County, local official fired all of the black public school teachers. We sued and got the (that) decision overruled."
Mr. Marsh recalls fighting the Norfolk School Board for at least 20 years and the firm's victory in Green v. New Kent County in 1968, when the U.S. Supreme Court told school boards in Virginia and across the country that it would no longer tolerate delay in desegregating schools.
The firm also was engaged on a host of other fronts, ranging from housing and voting rights to employment issues.