U.S. Supreme Court decisions change church-state separation, allow partial Muslim ban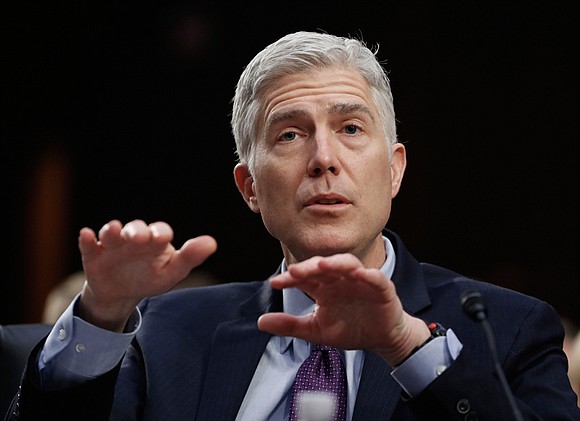 WASHINGTON
The First Amendment guarantee of religious freedom has barred the government from meddling with or taxing churches and other faith-based institutions.
In exchange, religious institutions generally have not been entitled to receive taxpayer funding.
No more.
In a major decision, the U.S. Supreme Court began erasing the line separating church and state as it wrapped up its 2016-17 term June 26 and recessed for the summer.
In a 7-2 decision, the court ruled that taxpayer-funded grants cannot be denied to church-run schools that otherwise would except for their connection to a religious group.
While the decision involved a small state grant for playground equipment, the ruling is widely seen as opening the door to requiring states to provide financial support to parochial schools.
The case, which appears to some scholars to upend two centuries of constitutional understanding about church and state, joined other significant decisions in the final days of the court's term. The nation's top court also:
• Allowed President Trump to partially impose his Muslim ban against refugees and immigrants who have no immediate relatives in or documented ties to the United States.
• Struck down a federal law that barred trademarks of names that promote hate, violence, bigotry and discrimination and threw out a North Carolina law that barred people on the sexual offender registry from going onto social media sites like Facebook and Snapchat.
• Knocked down a barrier that made it harder for gay married couples to obtain birth certificates for their children.
• Made it more difficult for the government to deny citizenship to immigrants who provide false information.
The church-state ruling involved a Missouri state grant to pay for recycled rubber for school playgrounds.
Trinity Lutheran Church in Columbia, Mo., sued the state for denying the grant to pay for rubberizing the church's preschool playground because the preschool is part of a church. Like 36 other states, Missouri's constitution bars support for religious schools.
Writing for the court, Chief Justice John Roberts stated that the exclusion from the grant solely because Trinity Lutheran is a church is "odious to our Constitution and cannot stand."
According to the chief justice, the state is penalizing the free exercise of religion when it denies a benefit to a school solely because of its religious character.
Two members of the majority, new Justice Neil Gorsuch and veteran Justice Clarence Thomas, filed separate opinions arguing that the court should have used the case to overthrow all limits on taxpayer funding of religious institutions.
Five justices, including the chief justice, sought to limit the decision, stating it applied only to benefits to which a religious group would otherwise be qualified.
The dissent came from Justice Sonia Sotomayor, who was joined by Justice Ruth Bader Ginsburg.
Justice Sotomayor, who attended private Catholic schools while growing up, took the rare step of reading her dissent from the bench.
Calling the decision a "radical departure" from settled law, she wrote that the court has blinded itself "to our history and leads us instead to a place where the separation of church and state is a constitutional slogan, not a constitutional commitment."