With crackdown on panhandling, people wrestle with their conscience
6/2/2017, 10:53 p.m.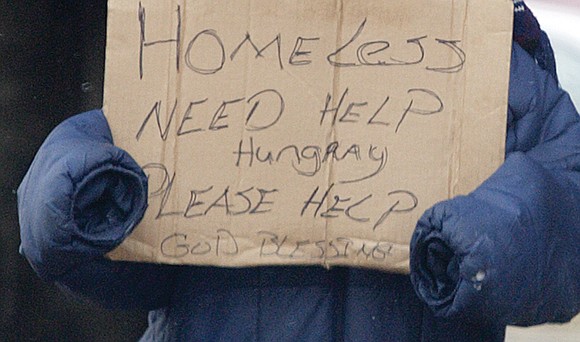 By Bobby Ross Jr.
Religion News Service
OKLAHOMA CITY
Driving to his downtown clothing business, Hans Herman Thun finds it impossible to ignore the beggars.
They catch his attention with handwritten, cardboard signs such as "Homeless and hungry," "Anything helps! God bless" and even "I'll be honest — I could really use a beer."
Mr. Thun, a self-described born-again Christian, works as a tailor for prominent customers such as University of Oklahoma football Coach Bob Stoops.
The owner of Hans Herman Custom Tailors said he does his best to help those in need.
"If I've got money, and it's easy for me to get over and give them money, I do," Mr. Thun said. "What the Lord taught me is, I have a responsibility to give. What they choose to do with the money is between them and the Lord, and he can work with them in regards to stewardship."
But in Oklahoma City and major cities across the nation, elected officials increasingly are passing ordinances that crack down on panhandling.
Typically, these ordinances make it a crime to approach vehicles or stand on medians at busy intersections. Supporters tout the ordinances as safety measures designed to protect the public as well as those seeking food or money.
(The City of Richmond prohibits panhandling or solicitation on center medians. The ordinance was passed by Richmond City Council in the late 1990s.)
In a number of cities, however, the ordinances are sparking legal battles with civil liberties advocates, who accuse communities of violating free speech rights and treating the homeless as "human blight." In one week in May, opponents filed lawsuits challenging anti-panhandling laws in Houston; Pensacola, Fla; and the Salt Lake City suburb of Sandy.
In the Bible Belt state capital of Oklahoma City, the American Civil Liberties Union and Legal Aid Services of Oklahoma are suing over a so-called "median safety ordinance." The law, which took effect last year, "attempts to criminalize everything from panhandling to political speech and even neighbors talking to one another or walking their dogs in the grass," said attorney Brady Henderson, the ACLU of Oklahoma's legal director.
"The same way that they look at a piece of property that is in disrepair and say that hurts the value — that hurts the enjoyment of life in the neighborhood — cities sometimes look at someone who is out in a median, who is in scraggly clothes and dirty and unshaven, and they look at that as blight," Mr. Henderson said.
Earlier in May, Lexington, Ky., moved toward passing an anti-panhandling ordinance after the state's high court struck down a previous measure. Meanwhile, Little Rock, Ark., began enforcing its prohibition on begging or soliciting in medians and roadways after two years of legal questions.
For many people of faith across the nation, the ordinances are igniting fresh debates over age-old questions: Does sparing a dime — or a dollar — at a street corner really make a difference? Or would donating the same amount to a charity serve to improve more lives?