Pentecostal Bishop Robert L. Tapper, 96, dies
3/4/2017, 9:49 a.m.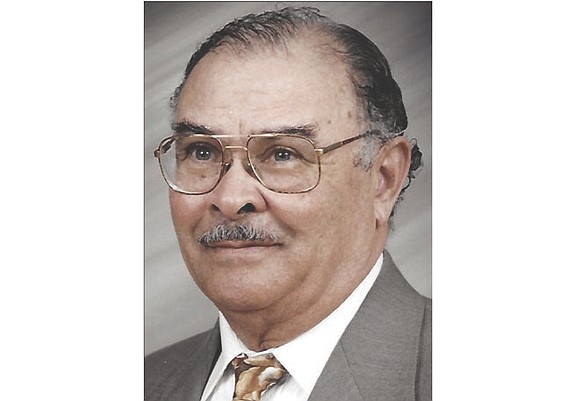 Pentecostal Bishop Robert Lancelot Tapper developed churches in Richmond and six other Virginia communities during a ministry career that spanned 65 years.
His church leadership is being remembered following his death Friday, Feb. 17, 2017, in Richmond, his adopted hometown. He was 96.
Born in Jamaica, he immigrated to the United States during World War II and started out as a migrant farm laborer in Florida and then a worker at a bomb factory in New Jersey.
After relocating to Richmond, he began his foray into the ministry, opening his first Pentecostal church in 1949 with his spouse, the late Letsy Ann Richardson Tapper, their children and three other followers in a Church Hill storefront.
In 1960, he moved the growing church, now called All Saints Apostolic Church, to Jackson Ward and then in 1979 to its current location at 2001 Royall Ave. in South Side.
As part of its ministry, the church later added a day care and a school for kindergarten and first-grade children. The school is named for his first wife, who died in 1988.
Even as he was developing the Richmond church, Bishop Tapper became more active in the Virginia State Council of the Pentecostal Assembles of the World.
In 1961, the energetic minister was named a district elder for the state council and ultimately given oversight of 11 churches. As a result of his work, he was elevated to suffragen bishop in 1993 by the state's diocesan Pentecostal bishop, Clarence E. Moore.
Initially as an elder, Bishop Tapper chaired the state council from 1982 to 1996 and, according to his family, also was involved in opening council-affiliated Pentecostal churches in Buckingham, Hague, Petersburg, Roseland, Thornburg and Waverly.
In 1984 at age 64, Bishop Tapper also took on the pastorate of Christ Temple Apostolic Church in Danville, while continuing to lead All Saints in Richmond.
He continued to lead both churches, but at age 76, installed his daughter, Dr. Lona T. Rogers-Miller, as co-pastor of All Saints. Putting more focus on Danville, he turned over full leadership of the Richmond church to her in 2001, with her sister and brother-in-law, the Revs. Janet and Samuel Murphy, as part of the church's leadership team.
In 2006, Bishop Tapper led Christ Temple Church in building a new 600-seat sanctuary as part of its expansion.
Six years later, at age 92, he started slowing down. He accepted the title of senior pastor and turned over the pulpit to Elder Troy Nevells.
Bishop Tapper continued to be active in the state council until his death.

Final tributes were paid to Bishop Tapper on Saturday, Feb. 25, at Mt. Gilead Full Gospel International Ministries in Chesterfield County. Interment was in Forest Lawn Cemetery.
In addition to his daughters, Dr. Rogers-Miller and Rev. Murphy, survivors include his wife, Lucy P. Mendenhall Tapper, whom he married in 1993; two other daughters, Helen T. Dunn and Elizabeth T. Johnson; three sons, Isaac S. Tapper, Robert V. Tapper and Trevor Tapper; a stepdaughter, Yvette Rourk; three stepsons, Verlin Mendenhall, Victor Mendenhall and Vincent Mendenhall; a half-sister, Cerita Miller; 20 grandchildren; 31 great-grandchildren; and two stepgrandchildren.