Report forecasts millions would lose health insurance under Trumpcare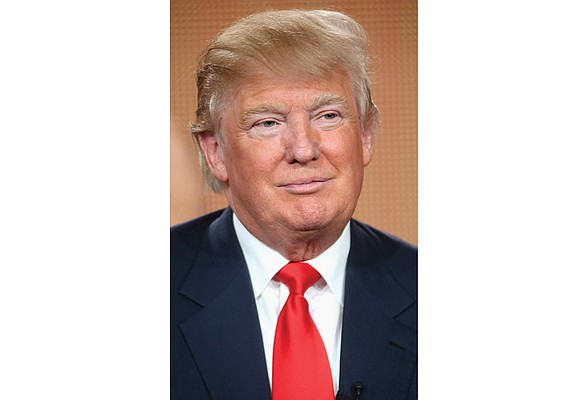 Free Press staff, wire reports
Fears that the Republican plan to repeal and replace the Affordable Care Act, or Obamacare, would wipe out health insurance for millions of mostly low-income people appear to be highly accurate.
An estimated 14 million people would either drop or lose health insurance by 2018 if the GOP plan labeled Trumpcare is approved, according to a new report issued jointly by the nonpartisan Congressional Budget Office and the Republican-dominated congressional Joint Committee on Taxation.
The 37-page report released Monday projects that 24 million fewer people would have health insurance in 10 years if the American Health Care Act that President Trump and his GOP allies are attempting to rush through Congress is approved — a prospect that appears less and less likely.

The report's findings are a far cry from the promises that President Trump made just before he was inaugurated as the 45th president in addressing his approach to replacing Obamacare.
"I'm going to take care of everyone" in the new health insurance program he would advance, he told reporters. And along with providing virtually universal coverage, he promised the plan would be more affordable: "So it'll be better health care, much better, for less money."
For Democrats, the report supports their claims that the president made false promises and instead is seeking to impose a plan that would provide big tax cuts for the wealthy while reversing the progress under Obamacare in spreading health coverage to 20 million to 22 million people, or 43 percent of those who lacked coverage before the law went into effect.

The report offers "tangible evidence of just how empty the president's promises — that everyone will be covered and costs will go down — have been," said Senate Minority Leader Charles Schumer, D-N.Y. "This should be a looming stop sign for the Republicans' repeal effort."
The White House and others in the Trump administration were quick to attack the report as inaccurate, unbelievable and biased.
Strikingly, the plan's architect, Republican House Speaker Paul Ryan, embraced the report, happily noting the CBO's estimate that his proposal would reduce the deficit by $367 billion over 10 years and lower premium costs for younger, healthier people who would no longer be forced to purchase health insurance.
He did not mention portions of the report indicating that premiums would skyrocket for people ages 50 to 64 who are too young to qualify for Medicare and whose employers do not provide health insurance.
Others are appalled that the president and his allies were working on a plan that would leave so many people without access to affordable coverage.
Among them is Democratic U.S. Rep. Robert C. "Bobby" Scott of Newport News. He called the report confirmation "of what we already knew — that millions of Americans would lose access to affordable health insurance" under the Republican plan that seeks to replace subsidies that make insurance affordable with smaller tax credits.
He was not alone.
"We do not need a health care bill that would cover fewer individuals and weaken available protections," said U.S. Rep. A. Donald McEachin of Henrico County, who called the report a "devastating blow" to the GOP plan.
"My Republican colleagues claim they want to benefit families," he continued. "But their health care plan roughly shifts more than $600 billion in tax breaks over 10 years to wealthy families and big corporations," while wiping out affordable insurance for those who need it most, low-income families, single mothers, the elderly, the disabled and those with pre-existing conditions.
Both Virginia senators, Democrats Mark R. Warner and Tim Kaine, view the report as exposing Republican claims that their plan is better than Obamacare.
Sen. Mark R. Warner noted that new CBO-JCT report shows "that Trumpcare will raise costs for consumers, particularly seniors, and leave millions of Americans without coverage."
He said he was most concerned by the report's findings that the GOP plan would "shift costs to states by radically restructuring and cutting Medicaid — a critical safety net that insures more than 600,000 children in Virginia, as well as thousands of elderly and disabled Virginians who depend on the program, in order to cut taxes for the wealthiest Americans."