Obamacare survives — again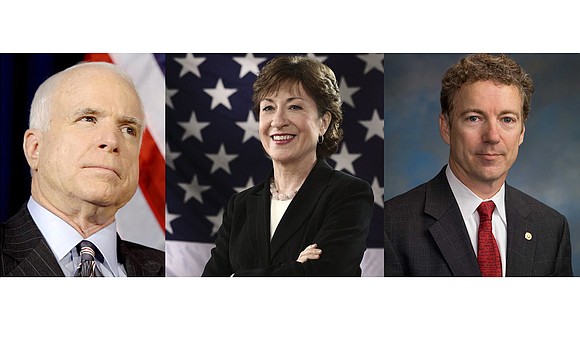 Good news: Millions of people will be able to keep their health insurance under the Affordable Care Act, also known as Obamacare.
Senate Republicans on Tuesday abandoned their latest attempt to repeal and replace former President Obama's signature legislation that has helped nearly 20 million people gain insurance coverage and health care since its inception in 2010.
The GOP's seesaw plans for repeal have created an upheaval and caused major health insurers to pull out of the program, although in Virginia, Anthem reversed its decision to pull out of the state marketplace and returned to offer coverage to those eligible.
The latest attempt to secure a Senate majority for repeal collapsed when three GOP members, Sen. Susan Collins of Maine, Sen. John McCain of Arizona and Sen. Rand Paul of Kentucky, came out against the Graham-Cassidy legislation, also dubbed Trumpcare because of President Trump's support.
The GOP needed 51 votes to pass the repeal by Sept. 30. However, after that date, 60 votes would be needed, based on Senate rules.

The Graham-Cassidy legislation, named after the two Senate authors, was pulled from the floor after it became clear it could not pass.
"We don't have the votes," said Sen. Bill Cassidy of Louisiana, co-author of the bill that would have transferred Obamacare funds to individual states to craft their own health care programs. "Am I disappointed? Absolutely."
So was Sen. Lindsey Graham of South Carolina, the other co-author.
The 48 Senate Democrats, including Sens. Tim Kaine and Mark Warner of Virginia, fought tooth and nail against dismantling Obamacare, calling such a move "a disaster" for Virginia and the nation. They expressed relief Tuesday that this fresh attempt failed. They also are hoping GOP senators now will work with Democrats to fix Obamacare's shortcomings.
"We are willing — eager — to sit down and come up with bipartisan improvements," said Minority Leader Chuck Schumer, a New York Democrat. "Let's move on and try to make our system better."
The latest failure to end Obamacare drew criticism from President Trump and boosted frustration within a party that pledged to end coverage for people who cannot get insurance through an employer.
"We were very disappointed by a couple of senators, Republican senators," President Trump said at the White House. "We were very disappointed that they would take the attitude that they did."
"We still need to do something," said Republican Sen. John Barrasso of Wyoming. "Health care is completely unaffordable."