GOP takes another swipe at Obamacare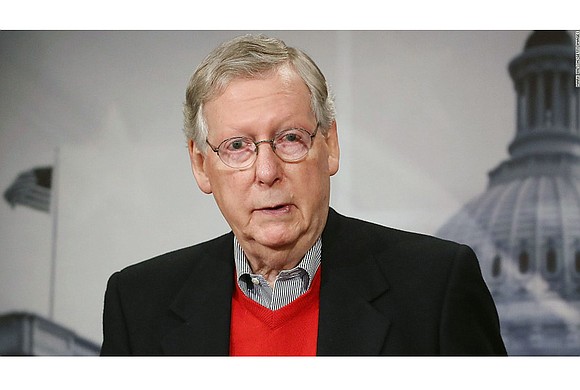 Free Press staff, wire reports
WASHINGTON
Jay Stout considers himself lucky that he was on the health insurance plan that his mother purchased through the Affordable Care Act's marketplace.
Without that plan, the 20-year-old community college student — and his family — never could have afforded the multiple surgeries and rehabilitation services he needed after his left arm was nearly severed in a head-on collision.
"The insurance is irreplaceable. Losing it would be devastating," he said.
But once again, he and millions of other families and individuals who have health insurance under the Affordable Care Act are facing another Republican charge to repeal the law known as Obamacare.
While the majority of Americans are covered through employer-provided insurance, Obamacare serves people who have no insurance either because their job does not come with benefits or they are unemployed. The program also forces upgrades in all insurance programs, including requiring coverage of pre-existing conditions and allowing young people to stay on family plans until age 26.
Next week, Republicans in the Senate will try for the third time this year to dismantle former President Obama's signature health insurance legislation.
Senate Majority Leader Mitch McConnell, a Republican from Kentucky, has committed to holding a vote on the repeal legislation that GOP Sens. Bill Cassidy of Louisiana and Lindsey Graham of South Carolina have proposed.
If it passes, the repeal is guaranteed to garner a majority of votes in the House of Representatives, where Republicans hold 240 of the 435 seats, or more than the 219 votes needed for passage.
The rush is on to pass the bill on or before Saturday, Sept. 30, the deadline for ensuring only 51 votes are needed for passage in the 100-member Senate. On Oct. 1, Senate rules would require a minimum of 60 votes.
It is still uncertain whether Republicans can muster at least 50 votes so that Republican Vice President Mike Pence could break a tie and kill Obamacare.

So far, only Sen. Rand Paul of Kentucky has said he will vote no; other GOP senators are expressing concern but have yet to speak in opposition.
President Trump, who promised better health care during the campaign last year, is eager to sign the bill that could eliminate coverage for millions of people, including many of whom voted for him.
Mr. Obama on Wednesday expressed frustration at the GOP obsession with eliminating coverage for ordinary people who are suddenly able to go to a doctor before they fall seriously ill.
The 44th U.S. president called it "aggravating" to see lawmakers push bills that he said would reduce coverage, raise costs or create uncertainty for people with pre-existing conditions.
"And all of this being done without any demonstrable economic or actuarial or plain common sense rationale," Mr. Obama said at an event in New York for the Bill and Melinda Gates Foundation. "And it's certainly frustrating to have to mobilize every couple of months to keep our leaders from inflicting real human suffering on our constituents," he said.
The Cassidy-Graham health care bill would eliminate Obamacare in 2020 and replace it with a block grant system to allot money to the states, but only for seven years. Through the block grants, pre-existing conditions may or may not be covered, depending on whether Republicans control the levers of power in a state.
At least 34 states would see less federal funding for health care under the plan. Virginia is one of 16 states that could benefit, one independent analysis has found, though a separate analysis in Virginia suggests the state would lose money.
Sen. Graham insists his proposal would give states more control over their health care and cut out the federal government.
Critics have expressed concern that the plan would drastically increase the number of uninsured Americans and lead to fewer financial protections for people with pre-existing conditions. Ten bipartisan governors have urged the Senate to reject the plan, although 16 Republican governors have issued a statement of support.
Virtually all major health care groups, including the American Medical Association, are opposed.
By rushing the bill to the floor, proponents of the plan have prevented the nonpartisan Congressional Budget Office from determining the plan's impact on people and on states.
All of the previous health care plans backed by the Senate GOP leadership would have led to 20 million or more people losing coverage, according to the CBO.
Theoretically, this bill should have no chance. Past efforts this summer died in the Senate because a few Republicans could not support the cuts to Medicaid and loss of subsidies that help people pay for insurance coverage.
Cassidy-Graham would cut these subsidies and the Medicaid expansion about as much as those prior efforts.
But at least one key no vote this summer, Sen. Dean Heller of Nevada, is a co-sponsor of this bill.
Arizona Sen. John McCain, who cast the key vote in July that killed the last effort, has indicated he could vote for this version, showing he may be backing off his previous demands for bipartisan support and Senate hearings on health care reform.

Other key Republican votes, such as Sens. Susan Collins of Maine, Lisa Murkowski of Alaska and Shelly Moore Capito of West Virginia, have only so far said they are undecided.

Key elements of the Cassidy-Graham bill include repeal of Obamacare's insurance subsidies and Medicaid expansion funding on Jan. 1, 2020. At that time, states would have the option to continue a system of health insurance subsidies and Medicaid expansion.
If a state creates an alternate insurance program for those under Medicaid and in the individual health insurance market, they could apply for federal block grants to help.
The federal block grants would be funded from the original Obamacare funds.
But money for any future state insurance subsidies and Medicaid expansion would be significantly less than states receive today. The legislation would spread the funds now being paid to the 31 states that have expanded Medicaid over all 50 states.
Passage of the bill also would create enormous market uncertainty. Health insurers would find themselves participating in Obamacare exchanges that are set to die in two years, raising expectations remaining insurers would pull out.
People 50 to 65 years of age could expect to pay far more for insurance with Obamacare protections removed.
States with relatively low medical costs, skimpy Medicaid benefits and no program expansion would win out. Texas would gain more than any state — $35 billion from 2020 through 2026.
On the other hand, states such as California and New York, with higher medical costs and generous benefits for low-income residents, would lose billions of dollars.