Va. redistricting cases winding through state, federal courts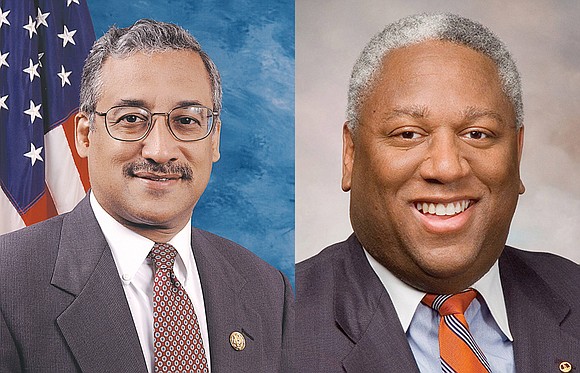 Democrats are using the courts "to do what they couldn't do at the ballot box," said GOP Delegate S. Chris Jones of Suffolk, chairman of the House Appropriations Committee.
A federal district court in 2015 upheld the 12 contested districts. But in its ruling, all eight U.S. Supreme Court justices directed the three-judge panel of the lower court to take a fresh look at the propriety of 11 of those districts.
In the opinion for the court, Justice Anthony Kennedy wrote that the lower court did not sufficiently analyze the consideration of race during the redistricting process.
The lower court had said it needed to look at race only if the district in question was not drawn based on "traditional redistricting principles." The high court faulted that approach, saying that a regularly drawn map does not tell the full story.
"If race for its own sake is the overriding reason for choosing one map over others, race may still predominate," Justice Kennedy wrote.
"For these reasons, a conflict or inconsistency between the enacted plan and traditional redistricting criteria is not a threshold requirement or a mandatory precondition … to establish a claim of racial gerrymandering," he added.
All of the 12 districts, including four in the Richmond area and at least seven in Hampton Roads, were created to have a majority-black voting age population of at least 55 percent, according to the court, making race a predominant factor.
Justice Kennedy found that in 11 of the districts, including the four in Richmond, that the General Assembly might not have been justified in creating districts with such a high percentage of black voting age residents.
The court did decide 7-1 to uphold a higher black voting age population in the 75th House District that Delegate Roslyn C. Tyler of Sussex, chair of the Legislative Black Caucus, represents. Justice Clarence Thomas, the court's lone black member, dissented, asserting that Delegate Tyler's district should not have been upheld because race was a predominant factor in deciding its boundaries. He opposes the use of race as a consideration in redistricting.
Race can be considered in redrawing boundaries of voting districts only in certain instances, such as when states are seeking to comply with the federal Voting Rights Act, as GOP leaders insisted was the case with the Virginia map.
That law seeks to protect African-American and Latino voters' rights to elect candidates and was enacted to address a history of racial discrimination in voting, especially in Southern states.
In 2015, the high court, in a 5-4 decision, threw out a lower court's decision upholding a Republican-backed redistricting plan in Alabama that crammed African-American voters into certain districts in a way critics claimed lessened their influence at the polls.
The Supreme Court has never said redistricting cannot be based on nakedly partisan aims, such as maximizing one party's election chances or helping incumbents gain re-election. However, a case challenging such gerrymandering is now making its way through the courts.
In the separate Richmond case, Circuit Judge W. Reilly Marchant has twice refused to throw out the challenge to the 11 House and state Senate districts as he began hearing evidence.
The four-day trial began Monday.
The advocacy group OneVirginia2021, which futilely lobbied for General Assembly approval of a nonpartisan redistricting commission, brought the legal challenge.
"We have a Senate map that was drawn by the Democrats, and we have a House map that was drawn by the Republicans, and we're challenging both of them," said Wyatt B. Durrette Jr., a former GOP legislator and gubernatorial candidate now representing OneVirginia.
"I don't care what political party benefits," Mr. Durrette said. "What I know is that the current process is an abject failure."