Va. redistricting cases winding through state, federal courts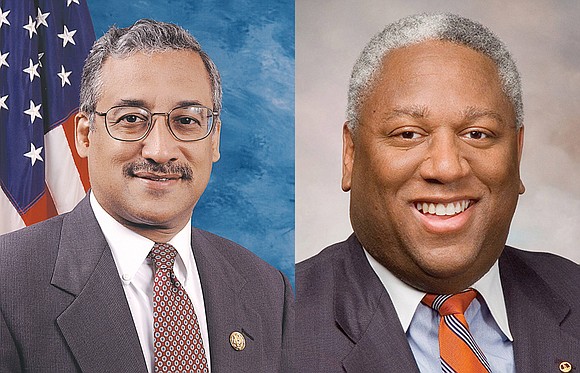 Free Press staff, wire reports
WASHINGTON
In a slap at Virginia's Republican-led majority in the General Assembly, the U.S. Supreme Court has directed a lower federal court to reassess whether lawmakers unlawfully tried to dilute the clout of African-American voters when it drew a series of state legislative districts six years ago.
A group of voters who filed suit to overturn 12 districts argued to the court that Virginia's legislators improperly made race a primary factor when mapping the boundaries of state House of Delegates districts, an argument a lower federal court dismissed in previously upholding the plan.

Essentially, the plaintiffs are arguing that legislators packed African-Americans into the 12 districts, reducing their influence on adjacent districts and aiding Republicans to win more seats — an argument that led to the overhaul of the 3rd and 4th districts of the U.S. House of Representatives last year.

As a result of the earlier case, Virginia for the first time has two African-Americans in its congressional delegation — U.S. Reps. Robert C. Scott of Newport News and A. Donald McEachin of Henrico County.
Meanwhile, a separate suit got underway this week in Richmond Circuit Court challenging 11 state House and Senate districts. The plaintiffs claim the districts violate a key requirement of redistricting contained in the Virginia Constitution — creation of compact districts that are not oddly shaped and do not overly split counties and cities.
The new Virginia case is one of a number of lawsuits across the country accusing Republicans of reducing the influence of Democratic-leaning African-American and Latino voters by packing them into constricted, oddly shaped districts to expand the number of GOP-friendly districts.
Linda Thomas, president of the state NAACP, hailed the March 1 ruling from the nation's highest court.
"It is clear that the state of Virginia unfairly packed black voters into districts, diluting their political power and depriving them of having their voices heard," she stated.
"This type of racial gerrymandering is dangerous to our democracy and causes tremendous harm to communities of color. We applaud this decision and hope the district court acts to end this unconstitutional gerrymandering," she added.
Gov. Terry McAuliffe also used the high court's ruling to urge Republican lawmakers to agree to set up a nonpartisan panel to handle redistricting, a concept that the GOP-controlled legislature rejected during the legislative session that ended last month.

"For too long, the redistricting process has been defined by partisanship, racial politics and costly litigation," the governor stated in urging Republican leaders to "drop your defense of Virginia's gerrymandered map and work with me on the nonpartisan redistricting plan our commonwealth deserves." (Gerrymander is a 19th-century term that refers to drawing districts to benefit the party in power.)
As expected, the governor got a quick "No," from Republican leaders. Retiring House Speaker William J. Howell of Stafford, for example, called the governor's message "premature" and "political gamesmanship."
Speaker Howell has staunchly defended the House redistricting plan the U.S. Supreme Court refused to uphold, having repeatedly noted that the line changes passed with bipartisan support after the 2010 Census, including support from most of the House members in the Legislative Black Caucus. (By law, election districts must be redrawn after each 10-year Census to reflect population changes.)
Democrats are using the courts "to do what they couldn't do at the ballot box," said GOP Delegate S. Chris Jones of Suffolk, chairman of the House Appropriations Committee.
A federal district court in 2015 upheld the 12 contested districts. But in its ruling, all eight U.S. Supreme Court justices directed the three-judge panel of the lower court to take a fresh look at the propriety of 11 of those districts.
In the opinion for the court, Justice Anthony Kennedy wrote that the lower court did not sufficiently analyze the consideration of race during the redistricting process.
The lower court had said it needed to look at race only if the district in question was not drawn based on "traditional redistricting principles." The high court faulted that approach, saying that a regularly drawn map does not tell the full story.
"If race for its own sake is the overriding reason for choosing one map over others, race may still predominate," Justice Kennedy wrote.
"For these reasons, a conflict or inconsistency between the enacted plan and traditional redistricting criteria is not a threshold requirement or a mandatory precondition … to establish a claim of racial gerrymandering," he added.
All of the 12 districts, including four in the Richmond area and at least seven in Hampton Roads, were created to have a majority-black voting age population of at least 55 percent, according to the court, making race a predominant factor.
Justice Kennedy found that in 11 of the districts, including the four in Richmond, that the General Assembly might not have been justified in creating districts with such a high percentage of black voting age residents.
The court did decide 7-1 to uphold a higher black voting age population in the 75th House District that Delegate Roslyn C. Tyler of Sussex, chair of the Legislative Black Caucus, represents. Justice Clarence Thomas, the court's lone black member, dissented, asserting that Delegate Tyler's district should not have been upheld because race was a predominant factor in deciding its boundaries. He opposes the use of race as a consideration in redistricting.
Race can be considered in redrawing boundaries of voting districts only in certain instances, such as when states are seeking to comply with the federal Voting Rights Act, as GOP leaders insisted was the case with the Virginia map.
That law seeks to protect African-American and Latino voters' rights to elect candidates and was enacted to address a history of racial discrimination in voting, especially in Southern states.
In 2015, the high court, in a 5-4 decision, threw out a lower court's decision upholding a Republican-backed redistricting plan in Alabama that crammed African-American voters into certain districts in a way critics claimed lessened their influence at the polls.
The Supreme Court has never said redistricting cannot be based on nakedly partisan aims, such as maximizing one party's election chances or helping incumbents gain re-election. However, a case challenging such gerrymandering is now making its way through the courts.
In the separate Richmond case, Circuit Judge W. Reilly Marchant has twice refused to throw out the challenge to the 11 House and state Senate districts as he began hearing evidence.
The four-day trial began Monday.
The advocacy group OneVirginia2021, which futilely lobbied for General Assembly approval of a nonpartisan redistricting commission, brought the legal challenge.
"We have a Senate map that was drawn by the Democrats, and we have a House map that was drawn by the Republicans, and we're challenging both of them," said Wyatt B. Durrette Jr., a former GOP legislator and gubernatorial candidate now representing OneVirginia.
"I don't care what political party benefits," Mr. Durrette said. "What I know is that the current process is an abject failure."