VCU takes on St. Mary's College in NCAA first round in Salt Lake City
3/17/2017, 8:42 p.m.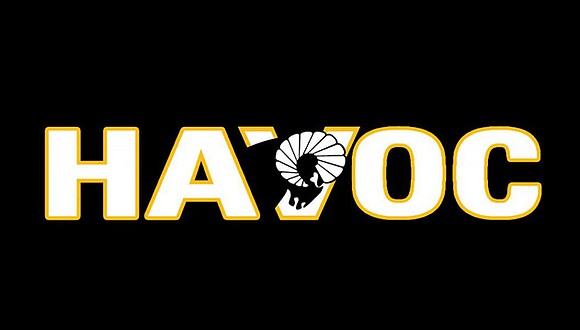 Virginia Commonwealth University's legion of basketball fans has come to expect two things — continued excellence and lengthy journeys to cheer on their Rams in the NCAA Tournament.
VCU has qualified for the NCAAs a noteworthy seven straight years. Only three schools have longer streaks. 
On each occasion, the team's selection has sent black and gold-clad fans begging for days off from work and scrambling for plane tickets and hotel reservations.
The most recent destination is Salt Lake City, some 2,143 miles from Richmond. There in Utah, the Rams will play St. Mary's College of California on Thursday, March 16, in West Region action. Tipoff is set for 7:20 p.m., with the game to be broadcast on TBS.
The winner of the VCU-St. Mary's match gets to play No. 2 seed Arizona on Saturday, March 18, also in Salt Lake City. For the No. 10 seed Rams, the games only will get more difficult. The West Region Sweet 16 is set for San Jose, Calif.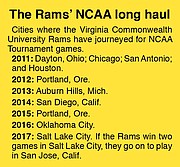 The Rams are joined in the NCAA field by the University of Virginia and Virginia Tech.
U.Va. will play the University of North Carolina-Wilmington at 12:40 p.m. Thursday, March 16, in Orlando. The game will be broadcast on TruTV.
Virginia Tech will face the University of Wisconsin at 9:40 p.m. Thursday, March 16, in Buffalo, N.Y. That game will be televised on CBS. 
VCU is 26-8 after falling to the University of Rhode Island 70-63 in the Atlantic 10 Conference Tournament final last Sunday in Pittsburgh.
St. Mary's College, a Roman Catholic school located in Moraga, about 20 miles east of Oakland, is 28-4, with three losses to juggernaut Gonzaga University of the West Coast Conference.
Now imagine if you're a Rams fan, one of the supporters contributing to 99 straight sellouts at the Siegel Center. VCU loyalists are renowned for their ability to hit the road and even "take over" opponents' gymnasiums.
VCU easily had the most fans at the A-10 Tournament in Brooklyn, N.Y., from 2013 through 2016 and this latest tournament go-round in Western Pennsylvania. 
VCU was hoping for an NCAA East Region berth in Greenville, S.C. Even Buffalo, N.Y., or Orlando, Fla., would have been much preferred to distant Salt Lake City.
In Utah, the Rams will face a St. Mary's outfit with six Australians, including 6-foot-11 center Jock Landale, who is averaging 17 points and 10 rebounds per game.
St. Mary's has close connections with the Outback. Current NBA players and Australian natives Patty Mills and Matt Dellavedova played at St. Mary's.
Unlike VCU, with a predominately African-American men's basketball roster since the early 1970s, St. Mary's has just one active African-American player, reserve guard Jordan Ford.
VCU fans must wonder why the Rams keep getting sent so far from home for NCAA Tournament play. Part of it is TV ratings. By placing an East Coast team in the western time zone, the game receives better ratings nationwide.
In the A-10 Tournament, VCU defeated George Mason University and the University of Richmond, in overtime, before falling to the University of Rhode Island in the finals.
JeQuan Lewis made the All-Tournament team and Justin Tillman continued his inside dominance, scoring 10 points and snaring 17 rebounds in the final. It marked the 11th double-double of the season for Tillman, a 6-foot-7 junior from Detroit.
There's no relief in sight for Rams fans who know something about Final Four excursions. Being optimistic, should VCU win two games in Salt Lake City and two more in San Jose, the NCAA Final Four will be — get your bags packed — in Glendale, Ariz., at the University of Phoenix Stadium.