Chesterfield's Devin Robinson is standout on Florida NCAA team
3/24/2017, 7:30 p.m.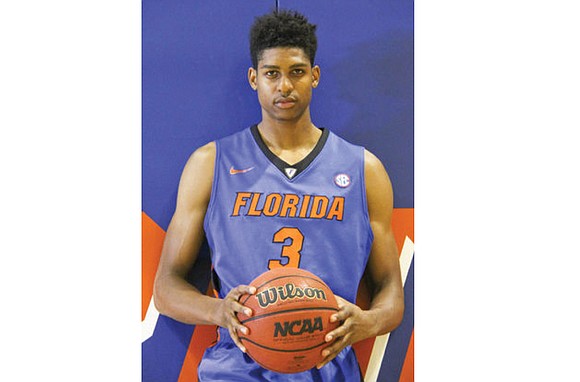 If you missed seeing Chesterfield County native Devin Robinson playing basketball as a youngster, here's your chance to observe the more grown up version.
Just tune in to TBS at 9:59 p.m. Friday, March 24.
The long-limbed 6-foot-8 junior wing is a major reason why the University of Florida (26-8) has advanced to the NCAA Sweet 16 to face the University of Wisconsin at Madison Square Garden in New York City.
Robinson drew national headlines last weekend in the Gators' rousing East Region wins over East Tennessee University (80-65) and the University of Virginia (65-39) in Orlando.
"Devin runs like a deer and gets his jump shot off so quickly," University of Florida Coach Mike White told the media at the Amway Center. "He's a very talented guy. He can be a force at both ends of the floor."
Wearing jersey No. 1, Robinson was brilliant in the NCAA region opener against East Tennessee. Scoring in a variety of entertaining ways, the lithe, 200-pounder posted 24 points, hitting two of three 3-pointers, hammering two dunks and adding seven rebounds in the victory.
In the Gators' beat-down of U.Va., Robinson buried two more 3-pointers, scored 14 points, snared 11 rebounds and thwarted U.Va. with his defensive quickness and tenacity.
On the season, Robinson averages 12 points and seven rebounds while hitting .479 from the field, .394 from behind the arc and .717 at the foul stripe.
Some background is in order, particularly because Robinson wasn't around Chesterfield courts long enough to establish a reputation.
After playing as an eighth-grader at Manchester Middle School, he enrolled at Manchester High before transferring to private Christchurch School in Eastern Virginia.
At Manchester High, he was a junior starter and among the Lancers' leading scorers under Coach Chad Long.
"Devin was a good kid but a little goofy," recalled Manchester Activities Director Roger Cassem. "He got in some trouble for some little things, but nothing serious."
Robinson reclassified at Christchurch, repeating the 11th grade, where he grew several inches and stirred a nationwide recruiting tug of war.
"In Devin's case, it was probably a good thing to get away," added Cassem. "It allowed him to mature more physically and emotionally. We wish him well."
Robinson helped Christchurch win a state title and was named the Virginia Independent Schools Player of the Year.
During that period, he also performed for the Squires Richmond AAU squad, drawing additional attention.
"Devin improved so fast," recalled Tony Squire. "In a matter of a few months as a junior, he went from being a kid with no (college) offers and no ranking to offers from all over the country."
He chose Florida — and Gators Coach Billy Donovan — after turning down offers from the likes of Connecticut, Indiana, Notre Dame and Oklahoma State.
Donovan then left Florida after Robinson's freshman year to become coach of the NBA Oklahoma City team. It was a source of disappointment for Robinson.
"I came to Florida to play for Coach Donovan," Robinson said in Orlando.