MEAC winners bow out of NCAAs early
3/24/2017, 7:33 p.m.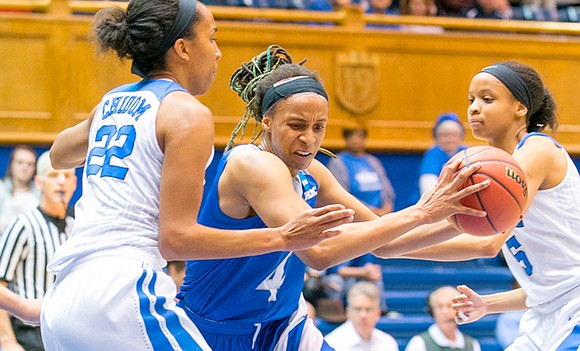 MEAC, the Mid-Eastern Athletic Conference, plays basketball on the NCAA's highest level, Division I, for at least two reasons:
• The opportunity for a head-spinning upset;
• And, more realistically, for financial gain.
Each game played in an NCAA tournament is worth about $1.5 million to the school's conference. Revenue is distributed over six years, which turns out to be an installment of about $250,000 paid to the conference each year.
MEAC Commissioner Dennis Thomas said all of the conference's schools receive a portion of the NCAA money, with the school participating in the tournament getting a larger share.
This year's MEAC representative to the NCAA Tournament was MEAC Tournament champion North Carolina Central University.
However, Coach LeVelle Moton's Eagles lost 67-63 to the University of California-Davis in a First Four match on Wednesday, March 15, in Dayton, Ohio.
In 2016, MEAC champ Hampton University defeated Manhattan College in a First Four game before losing to the University of Kentucky in the NCAA's first round.
That meant MEAC got double the $1.5 million per-game prize, for playing two games before national TV cameras.
Since earning an automatic NCAA Division I bid in 1981, MEAC schools have advanced in the main draw only three times, each time as a No. 15 seed against a No. 2 seed.
In 1997, MEAC's Coppin State University of Baltimore upset the University of South Carolina. Hampton University knocked off Iowa State University in 2001. And in 2012, Norfolk State University, as a 21.5-point underdog, shocked the University of Missouri.
"You never know what might happen," Commissioner Thomas told the Free Press. "People play the lottery even though they know the odds are stacked against them. But someone always wins the lottery, don't they?"
Never were the odds longer than a year ago when Hampton played the University of Kentucky in Louisville.
Hampton's annual basketball budget at the time was listed at $907,328; the University of Kentucky's, about $23.6 million.
To help generate revenue, MEAC schools play most non-conference games on the road in November and December for cash guarantees. While this pays some bills, it's punishing to a team's win-loss record. MEAC was 41-118 outside the league this season.
Commissioner Thomas said the historically African-American league is always on the lookout for expansion, but that football participation would be mandatory.
Asked specifically about Virginia State University, Commissioner Thomas declined comment but left the door open for discussion. 
The MEAC also sends its women's champion to the NCAA Tournament each year, but there is no revenue distributed, Commissioner Thomas said.
This year's MEAC women's champ, the Hampton University Lady Pirates, lost 94-31 in the NCAA first round to Duke University on Saturday, March 18, in Durham, N.C.

The women's tournament allows higher seeds to play at home in the early rounds.
MEAC was formed in 1970 with the intent of becoming one of two HBCU Division I conferences, along with the Southwestern Athletic Conference, or SWAC.
Many MEAC schools were members of the NCAA Division II CIAA before formation of MEAC.
In 1974, Morgan State University, led by Marvin "The Human Eraser" Webster, won the Division II national title.
On the Division I level, such an outcome seems remote, if not impossible. But as Commissioner Thomas is quick to say, "You never know."