Federal appeals court hears arguments in Richmond on Trump's Muslim ban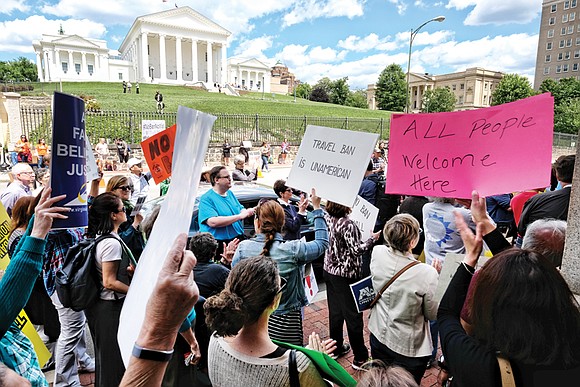 The second order was intended to overcome the legal problems posed by the original ban.
"This is not a Muslim ban," Acting Solicitor General Jeffrey B. Wall, arguing for the government, told the judges during the two-hour hearing.
The countries were chosen because they present terrorism risks, Mr. Wall said. The ban applies to everyone in those countries, regardless of religion, he said. Further, the banned countries represent a small fraction of the world's Muslim-majority nations, lawyers for the administration stated in court documents.
Mr. Wall told the judges past legal precedent holds that the court should not look behind the text of the executive order, which does not mention any specific religion, to get at its motivations. He warned that despite the "heated and passionate political debate" about the ban, there was a need to be careful not to set legal precedent that would open the door to broader questioning of presidential decision-making on security matters.
To a packed audience in the ornate pre-Civil War era courthouse, Judge Pamela Harris said President Trump's action clearly had a disparate impact on Muslims, asking, "How is this neutral in its operation as to Muslims?"
Judge Barbara Keenan, who like Judge Harris was appointed by President Obama, said the order could affect some 200 million people.