Hometown welcome
Basketball star Frank Mason III returns to Petersburg, fan honors
Fred Jeter | 5/26/2017, 12:28 p.m.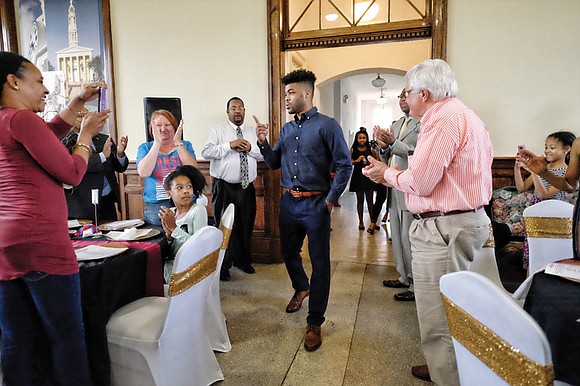 Frank Mason III left Petersburg High School in 2012 with stars in his eyes but with no guarantees of success.
What has followed since for the young basketball player is anything but typical.
The 23-year-old son of Sharon Harrison and Frank Mason Jr. returned home last weekend, having dramatically reached the stars — even dancing among them.
The University of Kansas point guard finished his senior and final season sweeping virtually every national individual basketball honor possible.
He leaves the Jayhawks — and looks forward to a possible NBA career — as the Big 12 Conference Player of the Year, James A. Naismith College Player of the Year, Associated Press Player of the Year, CBS Sports National Player of the Year, Sporting News Player of the Year, National Association of Basketball Coaches Player of the Year and winner of the Oscar Robertson Trophy, John R. Wooden Award and Bob Cousy Award.
Returning home last weekend, Mason was honored with Frank Leo Mason III Day, where he was feted by fans in a two-day series of events in his hometown of Petersburg and in Richmond, where he often played.
At a halftime exhibition game last Saturday at Petersburg High School in which he coached but did not play, Mason's Crimson Wave No. 15 jersey was retired.
The returning hero addressed a roaring crowd of some 1,200 people who were pumped up by the band at William Lawson Jr. Gymnasium.
"It's an honor having my jersey retired," he said. "There have been so many great players here … Moses (Malone), Darrell (Stith), Mark (West) and Kenny (Harris) … and the list goes on.
"I appreciate everyone who has come out. I want to thank my family and friends and everyone I love. And besides those people, I do it for Petersburg."
Mason's No. 15 jersey now joins Malone's No. 24, Stith's No. 30, West's No. 52 and Harris' No. 12 in the gym's rafters.
Following the festivities at the gymnasium, Mason threw out the first pitch at the Richmond Flying Squirrel's baseball game at The Diamond.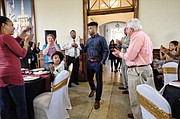 In leading the Jayhawks to 31-5 record, Mason averaged 21 points, five assists and four rebounds, while hitting 47.1 percent from the 3-point distance.
Mason also was honored Friday, May 19, at Petersburg's Union Station in historic Old Town, where Petersburg Mayor Samuel Parham presented him with a key to the city.
He hopes more outstanding scholar-athletes will follow him from Petersburg or Richmond.
"Like I always say, just believe in yourself," Mason said to the youngsters at the jersey retirement event. "Surround yourself with the right group of guys and get your education.
"And always make the right decisions and always think about the bigger picture in every situation," he said to applause.
Among those attending the weekend festivities was Kansas Assistant Coach Kurtis Townsend, who first spotted Mason as a postgraduate player at Massanutten Military Academy in Woodstock in Virginia's Shenandoah County in 2013.
It was Coach Townsend who suggested to UK Coach Bill Self that the Jayhawks sign Mason, even though he was a bit short — 5-foot-11 — by major college standards. Coming out of Petersburg High, his best offer had been from mid-major Towson University in Maryland, and he needed some improvement academically.
He not only showed he belonged at Kansas on college basketball's brightest stage, but that he could dominate on the floor and hold his own in the classroom, earning a liberal arts degree earlier this month.
Mason's star has never shined brighter. His bevy of fans and supporters are looking for his name to be called in the June 22 NBA draft at the Barclays Center in Brooklyn, N.Y.
Through it all, Mason has never forgotten Petersburg, nor has Petersburg forgotten No. 15.