Va. Christian Alliance hosts program on impact of technology
11/10/2017, 6:49 p.m.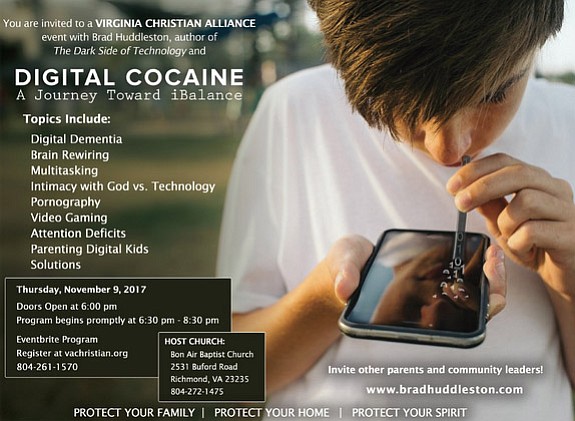 The Virginia Christian Alliance is sponsoring a seminar, "Digital Cocaine: A Journey Toward iBalance," at 6:30 p.m. Thursday, Nov. 9, at Bon Air Baptist Church, 2531 Buford Road.
The seminar seeks to address the impact of electronic technology, such as cell phones, games and tablets, on users and their brains.
Brad Huddleston, author of "The Dark Side of Technology," will speak.
"This is not an anti-technology message," Mr. Huddleston said. "But it is critical that people understand how to use technology so that it doesn't end up using them."
The seminar is designed for parents, teachers and teens and will include topics such as multitasking, brain rewiring, attention deficits and video gaming.
Cost: $5.
Information and registration: www.vachristian.org or (804) 261-1570.