Former principal fills 7th District interim School Board seat
10/19/2017, 5:51 p.m.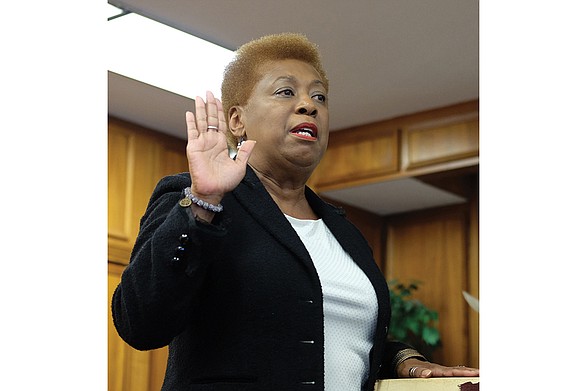 By Saraya Wintersmith
Cheryl L. Burke, a former longtime principal at Chimborazo Elementary School, is the Richmond School Board's unanimous choice to serve as the interim school board representative for the 7th District.
Mrs. Burke's selection comes one month after former 7th District School Board member Nadine Marsh-Carter resigned following her husband's death.
Voters will elect an official replacement to serve the remainder of Ms. Marsh-Carter's four-year term in November 2018.
"I'm still getting over the magnitude of today," a teary-eyed Mrs. Burke said after being sworn in Tuesday morning at City Hall. She added that the appointment represents a path similar to that of her mother, Octavia H. Lewis, who served on the Powhatan County School Board after teaching in that system for more than 40 years.
"We mimic what we see, and that's what my parents did, and so I continue with that," she said.
The vote to appoint Mrs. Burke as the area's School Board representative came after an hourlong closed session Monday night. Several city officials later said that Mrs. Burke's passion and breadth of experience set her apart from the nine other candidates seeking the position.
Mrs. Burke has worked within Richmond Public Schools for nearly four decades. Although, she wouldn't disclose her age Tuesday, she smiled and jokingly said that she has been teaching since she was a toddler.
Public records show that Mrs. Burke earned a bachelor's degree in early childhood education in 1976 from the now-defunct Saint Paul's College in Lawrenceville. Her career began as a preschool teacher at Clark Springs Elementary and Overby-Sheppard elementaries. After teaching for five years, she earned a master's in education from Virginia Commonwealth University.
Mrs. Burke continued working with RPS as an elementary schoolteacher, and later as a teacher specialist before arriving at the 7th District's Chimborazo Elementary School in 1996. She was the school's principal until her retirement in 2014. Records also show that Mrs. Burke has been an RPS substitute administrator for the past year.
"I never stopped working with children in the East End of the City of Richmond upon retirement four years ago," she said.
Richmond Mayor Levar M. Stoney, who attended her swearing-in ceremony, described Mrs. Burke as an "excellent addition" to the School Board.
"I think she brings a vast amount of experience," Mayor Stoney told reporters, "but also, you know where her heart lies — with the kids and the families of Richmond Public Schools."
During her Oct. 2 public interview, Mrs. Burke identified "student achievement" as a top priority for Richmond Public Schools, and suggested that an emphasis on soft skills and school culture could help remedy the issue.
"Once we start caring about each other and collaborate and reach consensus, then we can gain greatly what's expected," she said earlier this month.
When asked how much she expects to accomplish during her 14-month term, Mrs. Burke said, "I'm going to give it my all, and I know Rome wasn't built in a day, but I know it can be better than it is now."